The Yank Who Pulled Bhp Out Of The Shaft
It wasn't pretty, but Paul Anderson revamped the mining giant
Becky Gaylord
`Like a dysfunctional family" is how Paul M. Anderson saw BHP Ltd. when he was named the company's CEO two years ago. The big Australian mining, petroleum, and steel outfit was limping badly. It was pouring money into questionable projects, its mining practices had made it a target of environmentalists everywhere, and its stock price had hit a six-year low.
Things have changed with the arrival of the amiable American turnaround artist. Anderson's latest coup was getting board approval in November for a $1.05 billion expansion of the world's largest copper mine, a Chilean enterprise called Escondida, of which BHP owns 57.5%. The stock soared on the news and is now up 60% since Anderson took over, outperforming the Australian Stock Exchange All Resources Index by 15%. While shares of other Australian natural resource companies are stuck in an Old Economy rut, BHP is roaring ahead.
The turnaround goes beyond the share price. Anderson is shaking up the 115-year-old Australian stalwart--formerly known as Broken Hill Proprietary--with a rigorous agenda of U.S.-style restructuring. The results, at a company some had written off as a bumbling behemoth, have been impressive. "They've completely turned around --180 degrees," says Lawrence Grech of Deutsche Asset Management, who has followed BHP for 18 years.
A former chief operating officer for respected U.S. power giant Duke Energy Corp., Anderson started by hacking through BHP's corporate structure, which was not easy when operations sprawled across more than 30 countries. Eight divisions were reduced to four: minerals, petroleum, steel, and services. A choking bureaucracy was stripped down to the essentials. Now, some 65% of BHP's former top managers are gone--and the new crop's pay is tied closely to the company's performance.
Anderson has also stripped away $2.2 billion in noncore and stagnant assets and about 20,000 of the company's 55,000 employees. BHP is now flush with cash. It plans to use some of those funds to ratchet up oil exploration in the Gulf of Mexico and perhaps to buy a nickel mine in Australia. Profits, meanwhile, are up fivefold, to a record $1.1 billion for the fiscal year ended in June, 2000.
Drastic as some of his moves have been, Anderson's personal style is as casual as--well, Australia. He urges employees to call him Paul and turns up regularly at the cafeteria at company headquarters in Melbourne. He logs on to chat rooms on the company intranet to hear employees' gripes and responds to many of them himself. For recreation, he rides a Harley-Davidson motorcycle on Australia's lonely roads.
NEXT ACT? While BHP has come a long way, the prognosis isn't perfect. It is desperate to get rid of its 52% stake in the Ok Tedi copper and gold mine in Papua New Guinea (PNG), a project that over the past 15 years has triggered huge cost overruns and loud environmental controversy. Copper-laced muck from the mine has spread widely, flooding and killing vegetation in an area almost half the size of Rhode Island. "If we could shut it down tomorrow," says Anderson, "we would." But the PNG government doesn't want to see Ok Tedi closed: It owns 30% of the mine and derives 10% of the country's gross domestic product from its operation.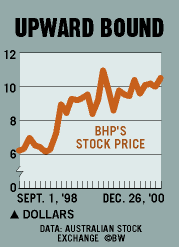 So far, Anderson's team has not run into a problem big enough to derail the market's enthusiasm. But now that he has sold everything that was losing money, wasn't working, or didn't fit, the true test begins. To create value for shareholders, "he has got to find it or buy it," says Stephen Giubin, an executive vice-president at BT Funds Management in Sydney.
Anderson gives himself just so-so grades. Despite the applause he gets from analysts, he sees the company's performance as acceptable, not stellar. Don't tell that to Aussie investors--they don't want this Yank to leave.
Before it's here, it's on the Bloomberg Terminal.
LEARN MORE