business
The Top 25 Managers
It wasn't easy being an executive this past year. Global growth started slowing, stock markets fell. It turned out that the New Economy still followed some of the old rules after all. Company after company, corporate icons included, had to concede that their performance was disappointing.
Their leaders offered explanations, revised plans, and promised to be more realistic. But boards weren't in a very forgiving mood: Many executives who couldn't rise above the skepticism had to step down. It has been a humbling year.
For every Richard Thoman, though, there's a Roger Ackerman. Thoman's attempts to retool Xerox Corp. (XRX) for the digital economy sputtered, and he resigned after 13 months. Meanwhile, Ackerman turned Corning Inc. (GLW), a company that dates back to the days of Thomas Edison, into a leader among optical networking businesses. Ackerman may not be a household name--many of our Top 25 managers for 2000 aren't--but he is as good a standard-bearer for the group as anyone. He's innovative and bold, and he's even put a successor in place.
To choose the year's 25 Top Managers, BUSINESS WEEK surveyed its staff of some 180 writers and editors in New York and 24 bureaus around the world. Then we culled that list for the truly outstanding leaders. Some, such as ExxonMobil Corp.'s (XOM) Lee R. Raymond, made the final cut by simply--and dramatically--outperforming the competition. Others, such as Ackerman, earned a spot by implementing a superior strategy or, as did Wayne R. Sanders of Kimberly-Clark Corp. (KMB), by revving up sales in a slow-growth industry. With markets in such flux, stock prices alone were no way to measure success in 2000.
Tech executives occupied a preeminent place among last year's group. Those we've chosen in 2000 are no less successful. But they are perhaps less exalted, certainly some are less extravagant. Daniel Warmenhoven may be the least-known billionaire in Silicon Valley. But his Network Appliance Inc. (NTAP) is posing a serious challenge to storage king EMC Corp. (EMC) Scott Kriens has pushed Juniper Networks (JNPR) to develop Internet routers that are faster and more compact than those of its mighty rival, Cisco Systems Inc. (CSCO)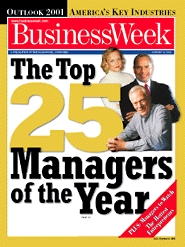 Many managers earned a place through sheer determination. J. Craig Venter beat the U.S. government in the race to decode the human genome. Noel Forgeard is pushing Airbus Industrie to develop the world's biggest jet. L. Dennis Kozlowski answered questions about dubious accounting practices at Tyco International Ltd. (TYC) while continuing to build a conglomerate that is as efficient as it is far-flung. Carlos Ghosn promised carmaker Nissan Motor Co. (NSANY) would be profitable by March or he would resign. The company is expected to meet the target.
Finally, in a year in which many CEOs were unceremoniously ushered out the door, we included some who capped stellar careers with impeccable exit plans. Harvey Golub of American Express (AXP), Roger A. Enrico of PepsiCo (PEP), and Charles F. Knight of Emerson (EMR) have made indelible marks on their companies. They also knew when to hand over power. That's the sign of a true leader.
Before it's here, it's on the Bloomberg Terminal.
LEARN MORE