Terra Lycos: Mano A Mano With Yahoo?
Spain's Web powerhouse is looking to buy more portals
by
Don't lose the momentum. That's the strategy driving Joaquim Agut, chairman of Spain's Terra Lycos, one of the world's biggest Internet service providers and a major operator of portals to boot. Barely three months after the $6.5 billion merger of Spain's Terra Networks and Lycos Inc. of the U.S., Agut is hunting for fresh game--and he has $3 billion to spend. "We're going to cash in on firms running out of gas," he says.
Thus Terra Lycos' affiliate, Lycos Europe, has already bagged two portals: France's Multimania and Sweden's Spray Networks. Agut's goal? To transform Terra Lycos into the No. 1 or No. 2 Net destination in each of the 40-odd countries the company operates in.
That's quite a stretch: Terra Lycos currently ranks fourth worldwide in page views, behind Yahoo!, AOL, and Microsoft's MSN. Moreover, the dot-com meltdown has driven investors to focus on profits--and Terra Networks posted a $260 million loss on revenues of $130 million for the first nine months of 2000. Meanwhile, because of the merger of two different Net businesses, Terra Lycos now presents a confusing mix to investors in the stock, which has lost ground along with Europe's other New Economy equities. "Terra Lycos is schizophrenic," says Pepe Cervera, director at Madrid-based online consultant Baquia.com. "Agut's only hope is to buy content to complete the transition from ISP to portal." It's portals that attract the traffic e-commerce outfits and advertisers want.
Fortunately Lycos is one of the few portals that has managed to turn a profit: Income totaled $23 million in the year ended in June, 2000. Yet Lycos boss Bob Davis, now CEO in the merged company, is in the process of unloading 3.5 million shares. Other Lycos execs have dumped shares too. "Insider selling is a clear indication management questions the fundamentals of the company," says Jordan Rohan, an analyst at Wit SoundView, a New York-based investment bank.
Agut dismisses such concerns: "Davis is keen to participate" in the new company, he says. Agut figures that with billions in the till from a recent rights offering, he and Davis have a staying power few Net companies can match.
Terra Lycos also ranks as Europe's biggest online distributor of music, books, and other entertainment--thanks to German multimedia giant Bertelsmann, which owns 20% of Lycos Europe. Bertelsmann will spend $1 billion selling its products on Terra's portals over the next five years. Agut believes that growth in ad revenues will lead to a 70% boost in earnings in 2001, allowing the company to break even by year- end. That may be optimistic given the slump in Net advertising.
Agut needs to hurry if he is to turn more of that cash into acquisitions. Rivals in Europe have already grabbed many of the larger ISPs. Agut may have his eye on smaller fry: Italian portals Kataweb and Ciaoweb, special interest sites such as iVillage and CNET in the U.S., and StarMedia Network, a Latin American portal.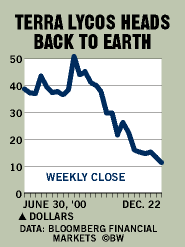 GLOBAL AMBITION. Picking up struggling Net companies may not sound like a sure way to profits. But Agut needs to bulk up content and audience to achieve his ambitions. Terra Lycos is strong in Latin America, where its parent Telefonica controls telcos, and has a foothold in Asia as a partner of Sumitomo bank. In Europe, it leads in Spain and Scandinavia but lags behind France's Wanadoo and Germany's T-Online.
Terra Lycos may have an edge over other portals, however. If the wireless Internet takes off, Telefonica could link its millions of cell-phone users in Spain, Germany, and Italy to a Terra Lycos portal. "Yahoo doesn't have that luxury," Agut says. True. But Agut doesn't have the luxury of slowing down either. The game gets more brutal by the minute.
Before it's here, it's on the Bloomberg Terminal.
LEARN MORE