Prilosec Time Is Just About Up
As the patent expires, AstraZeneca is rolling out Nexium
Amy Barrett and Kerry Capell
It's the drug industry's answer to the Hollywood sequel. AstraZeneca PLC's $6 billion stomach drug Prilosec is the top-selling prescription medicine in the world. With a key U.S. patent expiring next April, however, rivals could roll out cheaper, generic versions of Prilosec as early as autumn. So AstraZeneca is hard at work on plans to premiere Prilosec: The Next Generation. In early 2001, the drugmaker is expected to launch Nexium, a new medication derived from Prilosec, and is planning a massive marketing blitz as early as January. The goal: to switch as many patients as possible from Prilosec to the patent-protected Nexium before the generics arrive.
AstraZeneca's savvy strategy is just one example of the drug industry's struggle to protect its big sellers. According to SG Cowen Securities Corp., drugs with total sales of about $30 billion will lose their U.S. patent or other forms of regulatory protection between 2001 and 2005. That could lead to slowing revenue and earnings growth for some big pharmaceutical players--a prospect that has them scrambling for ways to thwart the cheaper upstarts. One key strategy is launching new and improved versions of old drugs.
The rollout of Nexium will be closely watched by investors and industry executives alike. All want to know whether such tactics will work, even as most health-maintenance organizations and employers look for ways to lower soaring drug costs. "It will be a battle of marketing vs. managed care," predicts Norman M. Fidel, health-care portfolio manager at Alliance Capital Management LP.
That's because Nexium, which is derived from the molecule that makes up the older drug, is far from a revolutionary breakthrough. Although studies show that Nexium has some benefits over Prilosec, including quicker relief from a common stomach acid disorder, some experts contend that edge may be slight. "Initial studies show Nexium has some advantages, but not major advantages," says Dr. Anthony J. DiMarino, chief of the gastroenterology division at Thomas Jefferson University Hospital in Philadelphia.
BIG GUNS. However closely related, Nexium does have one big advantage: It is a separately patented compound that will enjoy patent protection through 2015. So when a wave of generic Prilosec products hit the market at a fraction of its price, AstraZeneca hopes to hang on to many customers by switching them to Nexium. The drugmaker is expected to price Nexium a bit below Prilosec's current price to encourage a move to the new product.
That's a key reason AstraZeneca is expected to put massive firepower behind the rollout. Some analysts figure the company could spend as much as $400 million in the U.S. next year to introduce Nexium. One wild card: AstraZeneca has filed lawsuits arguing that some generic products will infringe on other, unexpired Prilosec patents. If those suits drag on and keep generic Prilosec off the market beyond next fall, AstraZeneca will have more time to shift Prilosec users over to Nexium. "When you have a better drug, you just have to go for it," argues AstraZeneca CEO Tom McKillop. "And we have no qualms about going for Nexium."
But McKillop's plans are likely to meet increasing resistance in the managed-care community. Jim A. Carlson, assistant director of pharmacy administration at HMO Group Health Cooperative, warns that if Nexium's primary advantage is simply slightly faster relief, it may not to cover the drug.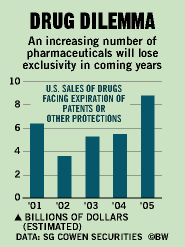 Group Health isn't the only payer eyeing products like Nexium with concern. A number of health plans and big employers, including General Motors Corp., formed a coalition in mid-2000 to educate patients and doctors about older, cheaper, highly effective drugs. But many say putting outright restrictions on new products could provoke a backlash from employees.
James C. Cubbin, GM's executive director for health care, will be watching Nexium carefully. Small wonder. The auto maker spends $55 million annually covering Prilosec prescriptions, far more than any other drug. A cheap, generic Prilosec would provide real relief. If AstraZeneca is successful in switching most of its patients to Nexium, look for Cubbin and others footing the bill to fight back harder.
Before it's here, it's on the Bloomberg Terminal.
LEARN MORE