Learning Fast At Saba Software
by
Michael Moe, who heads global growth research at Merrill Lynch, is betting big on technology that's focusing on corporate learning. That's why he is high on Saba Software (SABA). It has an Internet-based platform that enables corporations and governments to link people with learning systems to sharpen their competitive skills. With Saba Learning Networks, says Moe, Saba helps customers such as General Electric, Procter & Gamble, DaimlerChrysler, Sun Microsystems, and the government of Norway build skills to "develop and manage human capital," including performance reviews.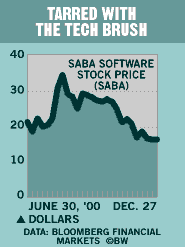 One result: Its customers have been able to cope with the explosive growth of e-commerce. As of last summer, 4 million people around the world--and tens of thousands of training services--were operating on Saba's learning and performance infrastructure systems, notes Moe. He categorizes Saba as an education company that he says is a good play in today's slowing economy. He rates the stock, trading at 16 1/2,, a buy. He thinks it will hit 40 in 12 months. Moe sees it posting revenues of $78.4 million in 2001, up from $37 million in 2000, but losing money in both years. In 2002, Moe sees Saba finally moving into the black, earning 43 cents a share on sales of $151 million.
Before it's here, it's on the Bloomberg Terminal.
LEARN MORE