Little-known Conceptus (CPTS) is bound to make a big splash in the sensitive field of contraception. The young medical-technology company has developed a nonsurgical, permanent contraception option for women: selective tubal-occlusion procedure (STOP), which it says prevents pregnancy.
Analyst Joanne Wuensch of ING Barings, who rates Conceptus shares a strong buy, says Phase II clinical trials have resulted in a 97% rate of effectiveness. She expects that the product, set for final Phase III trials in 2001, will be submitted for Food & Drug Administration approval in the second half of 2002. It could get an O.K. by mid-2003, she says.
When the STOP device is in place, it obstructs a woman's fallopian tubes, thus preventing egg and sperm from meeting. This is done with a thin, spring-like microcoil that is placed in the fallopian tube--delivered via catheter. The procedure, usually done in a doctor's office, takes 18 minutes, she says. About 95% of the patients require no general anesthesia and return to normal activity in a few hours. Conceptus says that during the 12 months when STOP was in clinical trials, 96% of the patients described their experience as "good to excellent." No pregnancies were reported in the trials.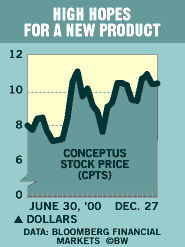 Wuensch says the product will be marketed in Australia in the second quarter of 2001. Although there could be risks, particularly in subsequent regulatory approvals, "we are impressed by the early clinical data, and we are in awe of the company's market opportunities," says the ING analyst. Wuensch has a 12-month price target for the stock, now at 10 1/2, of 19 a share, based on her 2004 earnings estimate of $12.5 million, or 79 cents a share, on projected sales of $62.7 million, vs. an estimated loss in 2003 of $9.3 million, or 67 cents a share, on sales of $18 million.
Before it's here, it's on the Bloomberg Terminal.
LEARN MORE