Smarter Bets For Tougher Times
Markets will actually improve in 2001--but you have to know where to look
Mike Mcnamee
Shell-shocked investors can be forgiven for wondering: Where do we go now? The economy's slowing, the political outlook is cloudy, and the bull market that turned the most casual stock-picker into King Midas is gone, gone, gone. Last year's winners are today's biggest losers. Tech stocks? Down 28.5% in 2000. Telecoms? Off 32.8%. The winners of 2000: utilities, health care, and finance. How dull can you get?
Well, take heart. Markets will be looking up in 2001--provided you know where to look for gains. Fortunately, you're holding the road map in your hands. In the 70 pages of BUSINESS WEEK's annual Investment Outlook, you'll find overlooked opportunities for investors willing to brave today's challenging markets. We'll steer you toward industries you've ignored--and to bright spots in beaten-down sectors.
No doubt about it: Investing's tougher now than it was two years ago. But the outlook isn't as bleak as 2000's plunging Nasdaq or roller-coaster Dow might make it seem. The U.S. economy is basically healthy: The 54 economists in our annual survey predict 3.1% growth in 2001, a slightly rosier view than BUSINESS WEEK's own daring duo offer. Nervous investors may fret about doomsday scenarios built around soaring oil prices or a dollar in free fall. But Federal Reserve Chairman Alan Greenspan is standing guard against a downturn. And while President-elect George W. Bush will have to move cautiously in a fractured Washington, investors can look forward to modest tax cuts.
Wall Street's bulls are counting on Fed rate cuts to power a broad rally. Main Street's investors don't agree: Only 32% of respondents to the annual BW/Harris Poll of Investors think stocks will rise in 2001, the most bearish result in five years. Instead, investors are counting on their own skill as stock-pickers: 79% say they can beat the market.
Where to look? One strategy with great promise calls for buying nontech growth stocks and stocks in the small- to mid-capitalization range. Small- and mid-caps have never recovered from the 1998 global crisis--and many are bargains. Some of the best values, small or large, are in the Old Economy, where deregulation and judicious use of technology are bringing new zip to industrial and service businesses. For investors looking abroad to diversify, European shares are more likely to rally than those in Asia or Latin America (page 102 to page 106).
Despite the 40% drop from Nasdaq's March peak, you can't write off the tech sector. Software writers and makers of data-storage gear should thrive. There are even dot-com gems to be found among Web-hosting and Net-security providers.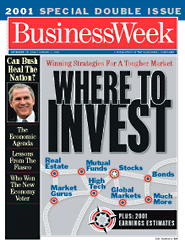 If this all sounds too tame, there's still a sector that promises dot-com-style thrills and spills. Biotech shares rise and plunge--but promise huge long-term rewards, with 350 new therapies in clinical trials and the cash to see those products to market. For the ultimate in white-knuckle investing, you can run with the short sellers, with our list of the stocks that bears love to hate.
The one thing we learned in 2000 is that there are no guarantees. The "sure bets" of the '90s bull market are the biggest flops of the new millennium. Investing today takes research, insight--and guts. With this guide, BUSINESS WEEK is giving you two out of three. Not a bad start for the year ahead.
Before it's here, it's on the Bloomberg Terminal.
LEARN MORE