Prww: A Fast Track Through The Fda
by
A company that could somehow expedite the process of approval--or rejection--by the Food & Drug Administration could be a gigantic winner, says investment manager Jack Silver, president of SIAR Capital. He thinks such a company exists: PRWW (PRWW), which provides Web-based solutions that streamline the clinical-trial process for drugmakers.
Shares of PRWW shot to 22 in February, up from 10, after investors got wind of its eResearch Technology unit, which developed the software to automate trials, including data-collection and filing for approval of new drugs. But the stock fell back to 5 by Dec. 4, 2000, after PRWW delayed the scheduled initial public offering of eResearch. It has since inched up to 6 13/16.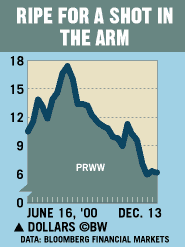 Silver expects the stock to triple in a year, because he thinks clinical trials are moving from paper-based to electronic systems. Soon, the government will mandate such processing to speed things up, he says.
David Jordon of Axiom Capital Management expects the IPO of eResearch to get under way in the first quarter of 2001. He says nine companies have signed up as eResearch clients, including Millennium Pharmaceuticals, Isis Pharmaceuticals, 3M/Pharmaceuticals, and Breast Cancer International Research Group. Each year, top drugmakers spend $8 billion on handling data for clinical trials. Less than 1%, says Jordon, is handled electronically.
Before it's here, it's on the Bloomberg Terminal.
LEARN MORE