Pink Slip Blues
The job market is still tight. But new layoffs are giving bosses more clout
By
Just six months ago, Relativity Technologies Inc. could barely find employees. The software startup, based in North Carolina's Research Triangle, made half a dozen offers to programmers, only to lose out to a high-flying dot-com lavishing stock options. But now, with so many Internet outfits folding, Relativity Chief Executive Vivek Wadhwa is finding the pickings far better. The company is getting triple the response to its help-wanted ads. "It's night and day," says Wadhwa. "I am getting plenty of good responses, and I don't have to make ridiculous job offers."
As the economy downshifts, some companies are finding themselves in an unaccustomed spot. Instead of having to beg for workers--and give away the store to hire and keep them--once hard-up employers are finding the balance of power shifting back. Talk of recession, plunging profits, the dot-com implosion, and a fresh wave of layoff announcements at some of the nation's biggest employers--General Motors Corp. said on Dec. 12 it was cutting 10,000 U.S. jobs, for example--are combining to make the oh-so-tight job market just a bit looser. "The dynamics have started to move in that direction," says Richard Berner, chief economist at Morgan Stanley Dean Witter.
It doesn't mean the years of tight labor markets have suddenly come to an end. While some of the froth is subsiding among dot-coms and on Wall Street, the overall labor market is likely to remain tight throughout 2001. Unless the economy slows more dramatically than most economists now think--the consensus view foresees growth in gross domestic product of 2.6% or so--unemployment should remain in the 4% range next year. There's still plenty of demand for new workers: In November, 94,000 employees were added to the national payroll. Indeed, even many high-tech companies, such as Microsoft Corp. and Dell Computer Corp., say they plan to keep hiring at a rapid pace.
So while it's becoming easier to snare talent without lavish perks, employers continue to face a scarcity of workers and strong wage growth. "The labor market may have eased, but it's still very tight by any historical standards," says Carl Camden, executive vice-president of operations at temp agency Kelly Services Inc., which places 750,000 employees a year. Adds Bank One chief economist Diane Swonk: "It would require a recession to fundamentally loosen labor markets, and we are nowhere near that point at this stage of the game."
BONUS BLUES. No question, though, that the economy has taken a breather in recent months. The additions to the national payroll are way off their high of 527,000 jobs added back in March (chart). There has also been a string of headlines about high-profile layoffs that could start to make more employees jittery. Witness Whirlpool's Dec. 13 announcement that it will slash 6,000 jobs due to a steep drop in U.S. appliance sales.
Indeed, it's the industrial heartland that is being hit the hardest. The steel industry has lost 10,000 jobs in the past year as it staggers under a new flood of cheap imports. And while Detroit is nowhere near that badly off, auto sales have started to slow, and inventories are piling up. Besides GM, analysts expect white-collar cutbacks at DaimlerChrysler. And all three major carmakers have been extending furloughs or cutting overtime as they work down bulging inventories. Detroit's weakness is spilling over to parts makers and suppliers. Some have reduced shifts from three a day to two, and halted weekend shifts. Others, like Delphi Automotive Systems Corp., have actually cut jobs.
Employees in finance are feeling beleaguered, too. Chase Manhattan Corp. and Credit Suisse First Boston have announced 5,900 job cuts following acquisitions. Analysts say more than 10,000 new layoffs could come by early next year as investment banks cut back in response to the downturn in the stock and high-yield bond markets. Top analysts and bankers are still going to rake in big bucks next year. But less-stellar performers could face lower bonuses or job losses, says Alan Johnson, president of compensation consulting firm Johnson Associates. "It's the mediocre middle that's going to get squeezed," he says.
The change is most profound among dot-coms, where labor markets have been the tightest. Hundreds of sites have closed their doors--and freed up workers. "Highly capable and talented people are available who weren't six months ago," says Daniel R. Hesse, CEO of Terabeam, a Seattle telecom company. Employee-hungry firms in New York's Silicon Alley are finding the same sort of easing. Hiring "is much more realistic," says Mark Weiss, CEO of MusicVision, an online music network. Job candidates who months ago would have asked for six-figure salaries, despite the skimpiest of resumes, have toned down their demands.
NEW LOYALTY. Many employees are showing more loyalty, too. Recruiters say staffers are far less keen to job-hop. "Ever since the market went south in April, the executives from the brick-and-mortar world are thinking more carefully about jumping into the clicks-and-mortar world," says David Opton, CEO of ExecuNet, an Internet-based recruiter. A recent survey of 1,140 tech workers by Aon Consulting Worldwide found that 61% intend to stick with their current employer for several years, and 56% would stay even if offered another position at slightly higher pay--surprising after the prevalent free-agent mentality of recent years.
Media companies are likely to be next in line to feel the pinch. Many are bracing for a slowdown in the advertising that drives their revenues. That has execs worried about headcounts. NBC froze hiring in October, and News Corp., which owns everything from the Fox TV network to newspapers, just followed suit because of its own increasingly gloomy ad-revenue projections. "It was time to tighten the screws a bit," says President Peter Chernin. After reviewing the costs of its operations, CNN, a unit of Time Warner, is considering layoffs at the network. For media companies, "it's going to be a tough year," predicts UBS Warburg media analyst Christopher Dixon.
Despite the new climate of caution, plenty of companies are still hiring--even in hard-hit high tech. Software giant Microsoft is snapping up dot-com refugees. And Dell Computer says recruiting of highly skilled engineers and other workers hasn't gotten easier. Indeed, Dell has had to increase counteroffers to retain workers, says Chemine Peters, Dell's manager of staffing strategy. Adds Steven Fortuna, a first vice-president at Merrill Lynch & Co.: "You have a lot of dot-coms going belly up, but the faster-growing communications companies are absorbing the good talent as fast as it becomes available."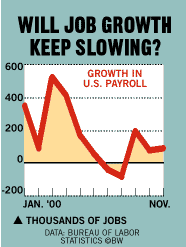 Some economists think the current softening of the labor market presages a much steeper fall-off next year. Robert Z. Aliber, a University of Chicago economist, argues that growth will slow far more sharply than generally believed--largely because business investment is turning south just as parlous stock markets are dissipating consumers' feelings of well-being. He puts the chances of recession by the fourth quarter of 2001 at 60%. "That's likely to translate into greater ease in the labor market," Aliber says.
If he's right, the warning signs starting to appear among dot-coms and elsewhere will spread across the economy. Until that happens, employers will find it a little easier to navigate the tightest labor market in a generation--but jobs will continue to outnumber employees.
Before it's here, it's on the Bloomberg Terminal.
LEARN MORE