Mesaba Airlines Is Set To Climb Higher
By
When Northwest Airlines, the world's fourth-largest, offered in early November to buy the parent of regional carrier Mesaba Airlines, the shares of Mesaba Holdings (MAIR) soared from 10 to 13 5/8. Northwest already owns 28% of Mesaba, with two seats on its board. The regional carrier has formed a panel to study the offer. Mesaba has yet to accept or reject, and its stock is still hovering around 13.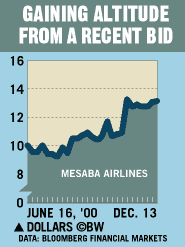 "But we expect Mesaba to reject the lowball $13-a-share offer soon and seek a higher price--from Northwest or elsewhere," says Sven Monberg, a special-situations analyst at Starr Securities. "The offer is cheap--about eight times the estimated March, 2001, earnings of $1.61 a share--compared with SkyWest Airlines' price-earnings ratio of 20 and Atlantic Coast's 28," he says. With Mesaba's earnings growth and regional routes to 103 cities in 27 states, industry experts estimate that Mesaba is worth $248 million to $262 million, or 17 to 18 a share, says Monberg. He thinks Northwest will raise its bid for Mesaba, which has a cash hoard of $112 million.
A possible white knight is Mesa Air Group: Soon after Northwest made its offer, Mesa sent a letter to Mesaba's board expressing interest in a "business combination" with Mesaba. Mesa already owns 3% of Mesaba. Northwest declined comment. Stay tuned.
Before it's here, it's on the Bloomberg Terminal.
LEARN MORE