A Balancing Act In A Beautiful Park...And A Bid To Keep A Culture Alive
Alysha Webb
It's hard to beat the scenery just outside Li Wen's front door: towering mountains, forests, a rippling creek, and rows of neatly terraced crops. But the government has said the 45-year-old and her husband will have to move because they live in China's Zhangjiajie National Park--even though they work for the park, caring for plants. Although she has lived there for more than a decade, Li is willing to move to a nearby town. But there's a caveat: She can't afford to replace her two-room, cinderblock house. "If the government gives us money, we'll move," she says with a smile.
Li is among 1,500 people who live inside the park, a 4,800-hectare tract in Hunan province. Moving the families is part of an ambitious plan to restore the pristine beauty of the area, which was declared China's first national park in 1982 and a World Heritage Site by UNESCO in 1992. Even more urgent than moving the families is relocating dozens of hotels that have sprung up in the park. Wastewater from the inns has turned once-clear waters black, and smoke from their coal-burning stoves has blurred the spectacular vistas. Although the government has forced them to install gas-burning stoves and a wastewater plant, these are band-aids at best. Clearing the hotels and families could take up to five years and will cost more than $24 million, which will come from the central and provincial governments, says Gong Wenmi, director of the Zhangjiajie city tourism bureau. "Protecting the environment is the most important task; development is second," he says.
But the area needs both. Tourism will account for an estimated 23% of Zhangjiajie city's gross domestic product in 2000, up from 17% in 1999. But it only has two upscale hotels, and it's hard to get a room in either one. The city is considering a plan to expand its tiny airport to handle international flights. Zhangjiajie city is courting investors from Hong Kong and Taiwan to help build the tourism industry. Tourists are already flooding in: During the first nine months of 2000, more than 4 million visitors toured the park, up 71.5% from the same period in 1999.
TRASH CANS. However, there's a Catch-22: More tourism means more economic growth, but more tourists also mean more pollution--which could eventually drive them away. Merchants recognize that their survival depends on preserving the park. "If we don't protect the environment, no tour groups will come here," says 35-year-old Chen Zhaomin, who owns a restaurant outside the park.
Sometimes, development even plays a role in protecting the park. Last year, Eastman Kodak Co. gave around $72,000 to buy more trash cans and put up signs urging visitors to toss garbage in trash cans and not hurt the flora and fauna. Kodak also contracts with a company to keep the park clean. In return, of course, the park sports a host of new structures: little kiosks selling Kodak film.
Cheng Chuhua and Gong Daoxiu say the park isn't all that needs protection in the Zhangjiajie area. The Tujia are a minority people of 1.5 million, mostly farmers, living in Hunan and surrounding provinces. They speak the same language as the majority Han Chinese but have many unique folk traditions. Although Cheng and Gong, who are husband and wife, both have Tujia blood, neither thought much about the culture before they were sent to the countryside in the 1970s during the Cultural Revolution. While they were "learning from the farmers," Cheng, 54, and Gong, 50, saw that the rural Tujia culture was being lost. In the late '80s, the couple began to buy brightly colored Tujia handbags, batik cloth, and elaborately carved beds.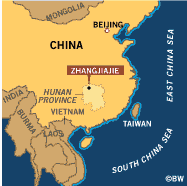 That collection grew into the Xiuhua Mountain Museum in Zhangjiajie, funded through admission fees, artifact sales, donations, and loans. It now receives more than 200,000 visitors a year, who tour a replica Tujia household and hear a concert of Tujia songs by the small staff. Gong and Cheng have bigger dreams. Cheng unrolls a watercolor rendition of a working Tujia village he aims to build on the outskirts of town. He's talking to Hong Kong investors now. "This project has a lot of support from people who think it should be a real village," not just a site for tourists, he says. But that authentic village could be a thriving business as well.