Pumping Up Petrobras
Can Philippe Reichstul ready the giant for competition?
Jonathan Wheatley
Philippe Reichstul is a man on the move. The president of Petrobras, Brazil's state-owned oil company, gives an interview in his chauffeur-driven car as it winds through downtown Rio de Janeiro, all the while fielding calls on his cellular phone. On the 45-minute flight to Sao Paulo, he manages to squeeze in a couple of meetings as well.
Reichstul, 51, cannot afford to slow down. In March, 1999, Brazil's President, Fernando Henrique Cardoso, tapped this former banker to guide Petrobras' transition from a government-coddled giant into an agile, honest-to-God contender. "The first thing we did was reposition ourselves, to focus on being a competitive energy company," Reichstul says. "Then we asked: `Do we have the structure to do this?' And the answer was `No."'
Reichstul's response: a top-down restructuring of Petrobras. That task, begun on Nov. 1, is gargantuan, and it must be accomplished fast. Deregulation of Brazil's energy market will be completed by the end of 2001. So in a mere 12 months, Petrobras will face full competition.
That's a daunting prospect for any company, but particularly for one encumbered by a rigid, totemic structure. "It was hell to work with," Reichstul says. The new Petrobras will be split into five core business areas--including production, refining, and retailing--to enable managers to respond to the changing market conditions faster.
So far, Reichstul's efforts to get Petrobras to operate more like a private company have been drawing strong reviews. "Reichstul is doing an excellent job," says Luiz da Rocha, an oil industry specialist at Arthur Andersen in Houston. Investors seem to agree. In August, they snapped up 28.4% of the company's voting shares offered on the Sao Paulo and New York stock exchanges, paying a total of $4.1 billion.
It's no wonder shareholders are pleased. Petrobras posted a $3.4 billion profit on sales of $15.8 billion in the first nine months of the year, compared with a $356 million loss for the period in 1999. Soaring oil prices are one big factor behind the turnaround. But Reichstul also deserves credit. Petrobras' finances are now more transparent and relations with investors have improved. Borrowing costs have fallen as a result. When Reichstul joined up, the company was paying 9.5% interest on short-term debt; it now pays less than 7%.
Reichstul has plenty to work with: Petrobras is the 14th-largest oil company in the world, with 10 billion barrels in proven reserves in Brazil. It also holds the record for deepwater extraction (1,877 meters), demonstrating a flair for difficult technologies that other oil majors have not mastered.
The company's main weakness is downstream. Its refineries are antiquated, while its pipelines and ships are accident-prone: A string of oil spills this year resulted in fines of at least $93 million. In response, the company will spend $1 billion over the next three years to upgrade refineries and create special teams to deal with environmental emergencies.
Despite such shortcomings, most analysts agree that Petrobras is well prepared to cope with the opening of Brazil's oil market. "They've done their homework," says Pedro Martins, an analyst at Chase Manhattan in Sao Paulo. "There won't be any big shock at the end of 2001." Petrobras was stripped of its monopoly on oil production in 1994. Fuel retailing has been open to competition for decades now. And by the end of next year, rivals will be able to import crude and refined products as well.
To prepare for that day, Reichstul is pursuing partnerships with private players. There are 50 joint ventures now operating in Brazil--with Chevron, Texaco, Royal Dutch/Shell, and Repsol YPF, among others. Close to $4 billion has been committed to these projects, all of which are in the exploration stage. Thanks to such collaboration, production is set to nearly double by 2005, to 2 million barrels per day. That means Brazil is close to realizing its goal of becoming self-sufficient in oil; it now imports 30% of what it consumes.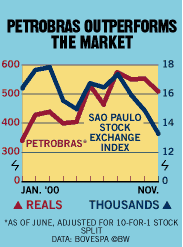 SACRED COW. There are limits on how far Reichstul can go in reshaping Petrobras, however. Under Brazilian law, the company cannot be privatized. That sacred-cow status is why he has been unable to slash away at its workforce of 34,000. "We don't fire people for economic reasons," he says. And no matter how committed he and his colleagues are to modernization, they are government appointees--and governments change.
Brazil's presidential elections are still two years away, however. And Reichstul is too busy right now playing catch-up to the world's oil majors to fret over his job. He's racing across the tarmac at Sao Paulo airport on the way to his next appointment.