Constellation's Star May Be Rising
By
In case you've been too distracted to notice, shares of alcoholic beverage companies have been enjoying a good time, while the market has been tanking. That's because the spirits tend to be defensive plays--they do better when times are hard. Shares of brewers Anheuser-Busch and Adolph Coors and of winemaker Robert Mondavi have been hitting highs, trading at price-earnings ratios of 18 to 28 times their estimated 2001 earnings.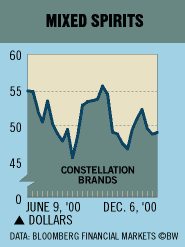 But one stock still to join the party is Constellation Brands (STZ), the second-largest winemaker (behind Gallo Winery), second-largest importer of beer (behind Heineken), and the fourth-largest supplier of distilled spirits. For a company that has annual earnings growth of 30% for the past two years--and is on track for 20% growth this year--the stock, now at 48, "is just too cheap," says Gary Steiner, an analyst at investment firm Awad & Associates. It is selling at 9 times his estimated 2001 earnings of $5.15 a share and 11 times his 2000 estimate of $4.35. Among the brand names supplied by Constellation (formerly Canandaigua Brands) are No. 1 beer import Corona Extra and St. Pauli Girl, Simi Valley wine, and Black Velvet whiskey.
What's keeping the stock down? "The Street likes pure plays, but Constellation is a diversified alcoholic beverage producer that investors perceive as complex and confusing," Steiner says. And Constellation is also identified with cheap wine, which accounts for 17% of earnings. "The low-end wine market is the least attractive business among its stable of assets," he adds.
But at its currently depressed price, the stock is a compelling buy, given the company's favorable growth outlook, says Steiner, who says the stock deserves a p-e of 13, or 75 a share.