Commentary: Chile's "Model Economy" Needs Some Sprucing Up
Louise Egan
Ricardo Lagos has a vision. In a valley, nestled between tall mountains and the Pacific Ocean, lie myriad high-tech companies churning out chips and software to power the world's computers. This Silicon Valley lies south of the equator, however. It's a dream, but one the President of Chile believes is worth chasing.
So at the end of November, Lagos traveled to the real thing to sell some of America's high-tech chieftains on the idea of investing in Chile. But after meeting with Larry Ellison of Oracle, Carly Fiorina of Hewlett-Packard, and John Chambers of Cisco Systems, among others, Lagos left the U.S. empty-handed.
That's what happens when you travel with an "outdated" bag of tricks, says Claudio Ortiz, head of the Santiago Chamber of Commerce. Indeed, the rebuff Lagos got was the latest sign that Chile, once Latin America's A+ student, isn't keeping up with the capitalist curriculum.
Chile's main attractions--political stability and a staunch free-market philosophy--are no longer sufficient to lure foreign capital to this strip of a country. These days, foreign companies more often than not want a large consumer market and a workforce with the skills they need to realize their global ambitions. Instead, in Chile, investors see a country with a population of just 15 million and an economy still heavily dependent on natural resources such as copper, lumber, fruit, and fish.
QUANDARY. It's a vexing problem for a nation that was once held up as an example for all emerging markets. Beginning in the late 1970s, Chile was the first country in Latin America to enact painful free-market reforms, including trade liberalization and privatization. The resulting economic boom turned heads from Alaska to Patagonia. But although Chile had a decade-long head start on reforms, other countries in the region have caught up fast. Indeed, Chile must now share its prized investment-grade rating with the likes of El Salvador and Mexico.
What's worse, the much-vaunted Chilean economic model is showing signs of wear. More than a year has passed since the 1998-99 recession, Chile's first in 20 years, officially ended. But the recovery has been fitful. Growth, at 5.6% for 2000, looks good--but not compared with Chile's recent average of 7%. Unemployment continues to hover at 10% and foreign investment was down 75% in the first half of the year, to $1.6 billion.
To encourage investment, Lagos, the first socialist to rule Chile since Salvador Allende was killed in the 1973 military coup, has dismantled capital controls. But the move has not boosted liquidity on the Santiago stock exchange, as had been expected--a sign that Chile is no longer distinctive enough to overcome investors' general wariness of emerging markets. Meanwhile, other measures to rekindle investor interest, such as the removal of the 15% capital-gains tax levied on foreigners, have bogged down in Congress.
A more fundamental problem is that investment in Chile's leading sectors seems to have peaked. All the large copper mining projects inaugurated in the 1980s are now onstream, and there are no major new ones in the pipeline. Forestry and fishing don't have the allure they once did. Meanwhile, state sell-offs are done. "There's just not much left to be privatized or sold," says Michael Mortimore, an investment analyst at the U.N. Economic Commission for Latin America & the Caribbean in Santiago.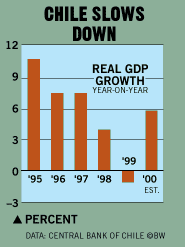 Chileans can't even decide which course to take to restore their country's luster. Ortiz suggests the government depart from its policy of treating all investors equally and offer foreigners tax breaks and other incentives in priority areas, such as energy and high tech. Bad move, say others. "Just create the institutional framework, and they will come on their own," says Jose Manuel Silva, chief researcher at Larrain Vial, a leading brokerage in Santiago. Silva argues that Chile should finish deregulating its capital markets to permit stock options so companies can lure top talent and boost the availability of venture capital.
Intervene in the economy? Or get out of the way? Lagos had better do something. The worst choice of all would be to just stand still. Even miracles don't last forever.