A Pileup In Europe For Japan's Carmakers
They've been clobbered by currency rates and bad styling
Chester Dawson and Christine Tierney
This was supposed to be the breakthrough year. That at least was the thinking among Japan's carmakers 12 months ago, as they contemplated their plans for the vast European auto market. New models, new plants, new partners: Toyota, Honda, Mitsubishi, and Nissan figured they finally had the elements for some major gains. Even the laws were turning more favorable, as the European Union removed the quota restrictions on imported Japanese cars.
Well, the results are coming in for 2000, and a breakthrough year it's not. Breakdown may be a better way to describe it. Late last month, the Japanese carmakers released results for the first half of their fiscal year: Their combined operating losses in Europe reached $470 million. "This was a big wake-up call for us," says Yohio Ishizaka, director of Toyota Motor Corp.'s European business, which reported a $24 million loss.
PAINFUL. A chief source of the problem is exchange rates: Japanese cars destined for the European market are mostly made in Britain and Japan, and the pound and the yen have been much stronger than the euro. That has jacked up costs to a painful degree. "Just as the import restrictions went away, we were hit by the currency market," laments Mazda Motor Corp. director Shigeharu Hiraiwa.
Fickle foreign-exchange rates are only part of the problem, though. Mitsubishi Motors Corp. for example, makes its two top sellers in the Netherlands, which is not exposed to the stronger pound. Yet that positioning hasn't shielded the carmaker from steep losses and lower sales.
The deeper problem is the reputation for lackluster styling that stubbornly clings to the Japanese in Europe. "Their cars have never been very sexy," says Yves Mignieres, sales manager at a Peugeot showroom in Paris. Only one Japanese car has caught the imagination of European drivers--the Toyota subcompact Yaris. Its distinctive grill and curvaceous dashboard show the sort of pizzazz Europeans expect from Volkswagen, Fiat, or Renault.
The Yaris is a huge success--but European sales for most other Toyota models are down sharply. Meanwhile, other Japanese stalwarts such as the Mazda Demio and Mitsubishi Carisma have failed to make a dent in Europe's all-important small-car segment. Adding to the problem is the mounting popularity in Europe of diesel-powered cars, an area where the Japanese are weak.
The fact that most Japanese carmakers manufacture in Britain may also affect the styling issue. "In Britain, the taste in cars is transatlantic," says a manager at a European carmaker. "So the Japanese didn't see that they weren't producing cars adapted to Continental tastes." The Japanese also must grapple with issues such as dealership networks that lack marketing clout and low levels of brand awareness.
This is a sorry state of affairs. After 30 years of marketing in Europe, the Japanese only have 11% market share overall, far lower than the 29% share they enjoy in the U.S.--or even the 16% allowed under the old quotas. As a result, Japan's auto giants don't benefit as much as they could from higher worldwide volumes that keep a lid on overall production costs.
Look, then, for some major changes in strategy. To reduce their exposure to currency swings, Toyota and Honda will jack up the number of parts sourced from the Continent for the cars they make in Britain. Both carmakers will also winnow out hundreds of poor-performing dealers from their networks. Toyota will reduce its roster of European showrooms from 3,440 to 2,000. The No. 1 Japanese carmaker is opening a plant in Valenciennes, France, early next year to make the Yaris locally. That will muffle the impact of currency hits and soothe lingering anxiety in France about foreign incursions.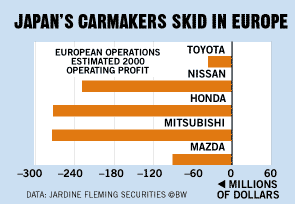 The Japanese also may finally get some serious help from their European partners. Nissan, a third-owned by Renault, now plans joint European production of separately-marketed models--the Renault Clio and Nissan Micra--based on shared platforms. Mitsubishi, allied with DaimlerChrysler, is pressing ahead with plans to launch a compact car on a joint platform.
The biggest need is for more models that show some panache. Toyota, for one, says the Yaris has taught it plenty about European tastes. Now its executives hint that a new sports car may be in the works, or perhaps a souped-up version of its high-performance GTI. "We have lots of secret weapons," says Toyota Managing Director Ishizaka. Better deploy them fast.