Out Of The Frying Pan And Into...The Frying Pan
PC makers build up another cramped market: Servers
By
From the way they talk, you'd think troubles in the personal computer market were no big deal for PC makers. Forget talk that their inventories are piling up or that 2000 growth for the industry is expected to be just 9.4%, vs. 24% in 1999.
Computer makers have long claimed to have a secret weapon: the burgeoning server market. With hefty 20%-plus margins, vs. 10% or less for a desktop PC, servers have provided lots of revenue growth and a big chunk of profits for such top makers as Compaq Computer Corp. and Dell Computer Corp. Thanks to the billions being invested in Internet infrastructure, crows Bill Zeitler, IBM's server chief, "this is the greatest business opportunity that's going to come along in the next 20 years."
Despite such optimism, the server market may not bring salvation to PC makers. Most have targeted the market for low- to midlevel PC servers, which can do everything from managing a slice of a company's sales to running its e-mail system. But the push of PC makers into the business--along with competition from a host of newcomers attacking the same markets--have made for a much tougher battle. That's one reason investors remain largely unconvinced that servers will end the PC makers' problems.
DEDICATED MACHINES. Indeed, the biggest threat to their plans may come from the booming demand for "server appliances." These machines can do one Net-based task more reliably and cheaply than general purpose PC servers. Customers seem to prefer these products, in part, because they are designed with special software that eases the hassle of having to manage over the Net. While International Data Corp. expects annual PC server sales to grow from $8.1 billion in 1998 to $13 billion in 2002, IDC analyst Mark Melanovsky thinks such server appliances will zoom from $1.2 billion in 1999 to $12.4 billion in 2002.
If he's right, it'll be deja vu. PC makers may find themselves squeezed into a plain vanilla commodity market with little choice but to slash prices to win share--the same formula that squeezed the profits out of desktops. That already seems to be happening: Industry observers say some low-end servers from PC makers now sell for $2,000, about half the price of a year ago.
To be sure, the server war hasn't claimed big victims yet. The server units of Compaq and IBM have surged 40% each in the past six months as they've catered to the strong market for servers linked to the Net. That market is sizzling largely due to new encyclopedia-size servers that can be stacked efficiently in Web hosting centers.
NEW FOCUS. Others in the PC Old Guard aren't faring so well. Dell, which soared to greatness by applying mass-market efficiencies to the desktop market, is showing signs of hitting the wall in the more complicated server business. By concentrating on the market for cheap servers that do the least complex jobs, Dell boosted its market share from 12% in mid 1999 to 16% this summer.
Still, Dell's growth is slowing dramatically. Analyst Kevin A. McCarthy of Donaldson, Lufkin & Jenrette Inc. notes that its sales of servers and server-related products for data storage have slowed from a 93% gain in the third quarter of 1998 to just 36% in its most recent quarter.
Dell's problem? It relies on the same approach it used in PCs: combining software from Microsoft Corp. with Intel Corp. chips onto a standard hardware design, letting the customer customize and maintain the gear. That's not good enough for Net companies, who find such systems crash-prone. Others are rushing in to fill the void. With the flood of e-mail and other Net traffic on the rise, Sunnyvale (Calif.)-based Network Appliance Inc. has developed servers loaded with special software to ease data management. Servers from Cobalt Networks Inc. in nearby Mountain View have simplified Web-hosting.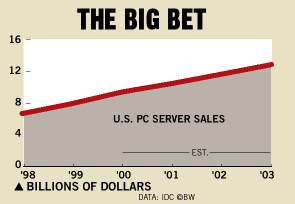 PC's Old Guard is even losing important accounts to PC startups with radical business plans. Guess who provides all the servers for Yahoo!, Google, and Hotmail? It's tiny San Jose-based Rackable Systems. It has created software that links a series of standard desktop PCs so that if one of those machines fails, its duties are picked up by a neighboring machine. "It's the wave of the future," insists Google Chief Information Officer Jim Moore.
Considering the industry's continual mutation, that is hardly a given. But this much is: Unless makers learn from their mistakes in PCs , they are likely to repeat them in servers.