Whose Forest Is It, Anyway?
Hal Clifford
In mid-October, new snow tops the 12,953-foot twin summit of Mt. Sopris, which looms above the former coal mining town of Carbondale, Colo., in the White River National Forest. The 2.3-million-acre reserve drapes down the western side of the Continental Divide, dropping from 14,000-foot peaks to the canyons of the Colorado River. Cathy Gotfredson, a 58-year-old retired English teacher, wheels a pickup truck along unpaved Forest Road 300, through groves of aspens that are dropping their leaves.
Almost every weekend, Gotfredson tells me, she and her husband, Ray, a housing contractor, ride off-highway vehicles (OHVs) into this corner of the forest, known as Four-Mile Park. During the warm months, they ride four-wheeled all-terrain vehicles (ATVs) or else off-road motorcycles. In the winter, they straddle snowmobiles. On this day, elk hunters are out in force, and ATVs are parked in almost every camp. Gotfredson, who has lived in the nearby Crystal River valley for 30 years, is a strident defender of ATVs. "Take a look for abuse," she says. "Do these lands look abused?"
Riding OHVs is the Gotfredsons' idea of fun. But under a proposed new management plan, their recreation would be sharply curtailed. And the U.S. Forest Service's 15-year prescription for the White River is widely seen as a test case for the country's 155 national forests. It declares that "a higher priority should be given to the physical and biological resources than to human uses of the forest." Instead of being able to ride off-road pretty much anywhere their machines will take them, Gotfredson and other self-described "motorheads" would be limited to designated roads and trails on 1.1 million acres. They are hopping mad about the proposed change. And they are joined by others across much of rural America who believe that the federal government is unfairly, and inappropriately, shutting them out of federal lands. At the same time, they charge, it is limiting traditional, extractive industries: logging, mining, and cattle grazing.
"SCRAPE, RAPE." Their movement, hatched in the late 1980s, goes under the rubric "wise use." Yet in the battle over America's public lands, most environmentalists believe "wise use" is unwise in the extreme. "People characterize us as the `scrape, rape, and ruin' bunch, but it's just not true," says Ron Arnold, executive vice-president of the Center for Defense of Free Enterprise in Bellevue, Wash., and the man widely seen as the intellectual father of the wise use movement. "We're far more sensitive and attuned to nature as it really is, not the mythologized, Disney version these urban people have. Wise use says: `Look, industrial civilization is a good thing. It's part of the evolutionary history of the whole planet."'
The movement sprang up in the West, where most land is federally owned--from 28% of Montana to 83% of Nevada. But there's a lot of history behind it. The wise use idea has roots in the frontier ethic of the 19th century and the Sagebrush Rebellion of the 1970s, which sought to shift control of federal land to the states. James Watt, Interior Secretary under President Reagan, appeased the movement by acquiescing to Westerners' demands for more logging, mining, and grazing on the public estate. Under Clinton, environmentalists gained the federal ear, and wise use rose up again.
An estimated 3,000 groups represent people who believe in wise use, according to Arnold. For him and his adherents, property rights are paramount, and human needs take precedence over those of other species. Wise use proponents often have a deep antipathy to wilderness designations, endangered-species protection, and other restrictions. They believe public lands exist to provide livelihoods and recreation for local residents and that the rest of the country--particularly as represented by the federal government--shouldn't tell them what to do or how to do it. This approach to public-land management has held sway for much of the 20th century, and the wise use movement sees no reason to abandon it.
DOMINION. The battle between the wise use crowd and environmentalists is an Old West vs. New West struggle over the fate and purpose of federal lands. More philosophically, it is part of growing debate over humanity's place in the natural order--are we the earth's masters or one of its many creatures?--and just what our responsibilities are toward our habitat. Equally urgent, from the environmentalists' point of view, is whether we've actually discovered the natural world's limits--limits humanity long assumed did not exist.
During the past decade the U.S. Forest Service and the Bureau of Land Management have moved away from traditional "multiple use" of public lands, a strategy that promoted road-building, wide-open access, and exploiting federal lands for economic purposes. And wise users detect a certain greenish tint in this policy. "If you read the Forest Service's Web site now, there's nothing in there about economics. It's all about preservation," complains Richard Zierlein, chairman of the county commission in Otero County, N.M. "That's what we have national parks for. Forests are for the economic benefit of the country." Zierlein's board resolved in September that if federal officials won't log the nearby Lincoln National Forest aggressively, the county will.
Complaints such as Zierlein's are common in the West, and they can lead to symbolic protest. This autumn, hunters in northern Montana threatened to cut Forest Service locks on gates closing access roads. In western New Mexico, local citizens shot several wolves--of an endangered species that had been reintroduced into the area. In Utah, a rancher refused to remove her cattle from Grand Staircase-Escalante National Monument. And in Nevada, protesters used shovels sent from around the country to try to reopen a road closed by the Forest Service because it was leaching silt into a trout fishery. Such actions reflect mounting frustration among wise users over what they see as wrong-headed management decisions made by distant bureaucrats.
SUSTAINABLE. The wise use people want to do what they've always done. But environmentalists call that an outdated ethic. "There's no longer a frontier," says Sloan Shoemaker, conservation director for the Aspen Wilderness Workshop, which favors restricting OHV use in White River National Forest. "We're talking about limits." The Forest Service agrees. It reduced logging in national forests by three-fourths during the 1990s and developed a four-goal agenda: sustainable ecosystems; restoration and maintenance of watersheds; a sound road-management policy, and providing for existing levels of recreation. What's not included--supporting local economies and accommodating new recreation--makes wise users nervous. "We believe in preserving our resources for the public, not from the public," says Clark Collins, executive director of Idaho's Blue Ribbon Coalition, which represents 900 motorized user groups, dealers, and manufacturers.
So it is that White River National Forest, where the Gotfredsons like to roam, is a wise use battleground. The nation's fifth-most-popular national forest, with 14 million annual visits, White River is, by any reasonable measure, being overrun. On a single day this fall, says Dan Hormaechea, the forest's chief planner, rangers at one station counted 500 OHVs being towed into the forest by hunters. "They don't want to stay on designated roads and trails," Hormaechea says. "They want the freedom to go four-wheeling or whatever." The result: Fragile ecosystems are ripped up, and wildlife is scared off. My tour through Four-Mile Park revealed one hill scarred with recent, muddy tracks. In other parts of the White River, ATVs and jeeps have churned muddy trenches through the fragile wetlands of ancient fens.
The problem with motorized recreation is one of magnitude. The occasional snowmobiler or dirt biker is no big deal. But in the past 10 years, manufacturers including Honda, Kawasaki, and Polaris have developed powerful machines that can wreak havoc in sensitive alpine and riparian areas. And sales of these contraptions have exploded. In 1990, 78,000 snowmobiles were sold in the U.S.; this year, that number topped 136,000. Dirt bikes? In 1990, 77,000 were sold; in 1999, 152,000. Four-wheeled ATVs were rare 15 years ago; 569,000 were sold in 1999. If one rider follows another off a trail, soon there's a new road. Species that can't tolerate the invasion--lynx, pine marten, olive-sided flycatchers--lose their habitat and vanish. The woods look unchanged to most people, but they are less diverse--and less healthy.
Wise use folk don't see this. "I've been in the Four-Mile area for better than 15 years now, and it doesn't look any different to me than it did 15 years ago," says Randy Parsons, president of the White River Forest Alliance, a small off-roaders' group in Carbondale. Parsons rides a dirt bike in the summer and runs a snowmobile touring business during winter. "I think it looks better." But Forest Service officials and environmentalists beg to differ. Observations made while roaring through the woods don't constitute scientific research, they say. Nor are the deer and elk that commonly graze near highways and on golf courses during the winter a sign of a healthy ecosystem. Those animals have been harassed out of their traditional wintering areas by snowmobilers.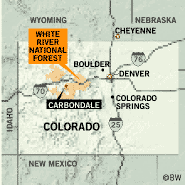 As we drive through Four-Mile Park, Cathy Gotfredson stops to collect trash left by hunters. She has a deep sense of stewardship, and she doesn't think she's hurting anything. Deer raid her bird feeders, she says, so why is the Forest Service insisting things are so bad? "If they shut me out on my ATV," she asks, "who's to say they're not going to shut out the mountain biker or the horse packer?" The Forest Service insists that's not in the cards, but Gotfredson and others are unconvinced. "Why can't you just let be? Everybody has a right to be out here."
Before it's here, it's on the Bloomberg Terminal.
LEARN MORE