Who Will Help Ellison Run Oracle? Ask Again Later
A persistent leadership void has everyone guessing
Jay Greene
Early in November, Oracle Corp.'s stock price spiraled downward as investors trembled over rumors that the software maker's chief financial officer, Jeffrey O. Henley, was about to leave the company. Turns out the rumormongers fingered the wrong executive. Henley is sticking around--but Gary L. Bloom, the executive vice-president previously considered a likely successor to Oracle Chairman Lawrence J. Ellison, is taking a powder. Bloom said on Nov. 17 that he'll become CEO of Veritas Software Corp., a Mountain View (Calif.) company that makes data-management software.
The management void has got investors worried, even if Ellison is playing it cool. "There's no one person at Oracle whose departure is going to hurt this company," says the chairman. "Including me." Nevertheless, Bloom's departure is the second high-profile exit from Oracle since June, when Chief Operating Officer Raymond J. Lane left the company after Ellison took many of his responsibilities away and consolidated his own authority. "It's clear that Larry is a terrific visionary," says J.P. Morgan analyst William Epifanio II. "But he's not an operations guy." Fears that Oracle could stumble without a more hands-on manager at the top sent its stock down sharply. By Nov. 20, Oracle's shares had fallen more than $4, to $24.75. In total, investors have erased about $135 billion--nearly half of Oracle's market value--since Sept. 1.
EGO AND INTELLECT. You would think these would be heady times for Oracle. The company has set an example for e-commerce, providing the database software of choice for companies that want to do business online. Profits soared 111%, to $501 million, in the quarter ended Aug. 31.
But Bloom's departure highlights a growing problem that Oracle is having difficulty solving: a leadership vacuum. Ellison, an executive whose vast intellect seems matched only by his ego, owns an Italian Marchetti fighter jet and is building a $40 million estate modeled on a medieval Japanese palace. Although the company has largely succeeded thanks to his vision, he has always been an executive who needed someone to turn his big ideas into smart business strategy. In the early 1990s, for example, Ellison helped make Oracle the king of so-called relational databases--software that managed data for corporations and helped them analyze it. But from the mid-1990s on, it was Lane, Bloom, and others who provided the operations skills that turned the company into the powerhouse it is today.
Moreover, since joining Oracle eight years ago, Lane has been largely credited with turning Oracle's sales force into an efficient, well-managed machine. During his tenure, sales jumped eightfold, to $10 billion. Bloom handled dull but necessary tasks such as business development, partnership programs, and marketing. When Lane left, he became the heir apparent. "I'm a firm believer that no one person holds up the fort," is all Bloom will modestly claim. Maybe so, but with his departure, it's unclear who will bring organization and discipline to Oracle's executive suites. "Oracle does better when it has the yin to Larry's yang," remarks Marc Benioff, a former Oracle executive who now runs Salesforce.com, a sales management Web site.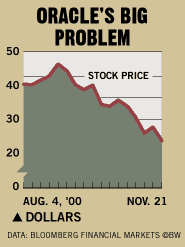 So who will step into the role vacated by Lane and Bloom? Most observers point to CFO Henley. "The company is not without adult supervision as long as Jeff Henley is there," says a former senior Oracle executive. He joined the company in 1991 from Pacific Holding Co., which owns pieces of Dole Food and Castle & Cooke, just as auditors found questionable practices in the way Oracle booked revenue. After the company was forced to restate its 1990 earnings, Henley restored its credibility and fiscal health.
Although some Oracle watchers think Henley may have enough on his plate as CFO, that may be a moot point. According to Benioff, "What Larry wants, Larry gets." For Oracle's sake, the company had better hope that those Internet rumors of Henley's departure were just wrong, not premature.