What's Bottling Up Natural Gas
Supplies dwindle as a "normal winter" arrives
Christopher Palmeri
For years, the energy industry has been saying that clean-burning natural gas is the fuel of the future. Lately that flame has gotten too hot for its own good as problems have piled up. In mid-November, natural gas prices hit an all-time high of $6.50 per thousand cubic feet. That's nearly triple what gas was selling for at this time last year--and it is likely to get worse.
Moreover, natural gas utilities across the country have been warning customers for months that home heating bills could jump as much as 40% this winter--and even that may be conservative for some regions. Because of an early cold snap on the West Coast, pipeline capacity got so tight in Southern California that 80 industrial customers already saw their gas service shut off several times.
What gives? A surging economy, increased use of natural gas for home heat, and a spate of new gas-fired electricity generation plants have sent demand soaring. High oil prices have also played a role. While many industrial users and electric utilities would usually switch to oil when natural prices go so high, this year that's not an option.
Meanwhile, new natural gas fields are being depleted faster than ever, while exploration spending has yet to recover from a steep decline three years ago. And Old Man Winter could add to this year's problems. The last three winters were among the warmest on record, but that looks set to end. "If the National Weather Service forecasts are accurate and we have even a normal winter this year, we could see more supply disruptions and prices going even higher," says Peter Lund, vice-president for pipeline development at PG&E Corp.'s national energy marketing group.
Add it all up, and the balance between supply and demand has gotten seriously out of whack. U.S. consumption is projected to increase 3.3% this year, to 22.2 trillion cubic feet. Overall, that's nearly a 40% increase from 1985.
Industrial and consumer demand share the blame. The percentage of newly built homes heated by natural gas, for instance, has increased from 39% to 64%. And in the last year, almost 30,000 megawatts of new natural gas-fired power plants have come online, a 60% increase.
NO DEPOSITS. Gas production has yet to catch up. After staying flat for the prior six years, U.S. production is expected to increase only 0.7% this year, to about 18.2 trillion cubic feet. Normally, imports, mostly from Canada, make up the difference. But even Canada is now having trouble increasing production.
A major reason is the depletion of big deposits. Thirty years ago, a typical field in the Gulf of Mexico, which accounts for one-quarter of U.S. production, would contain 430 billion cubic feet of gas. Today, the average field there holds less than 30 billion cubic feet. Says Salomon Smith Barney energy analyst Robert Morris: "They are finding fields the size of beach balls where they used to find Goodyear blimps."
That has gas producers scrambling. In mid-October, the number of rigs drilling for natural gas in the U.S. hit a ten-year high of 855--twice last year's level. To maximize output, companies such as Houston-based Apache Corp. have been dusting off 50-year-old well data and using new technologies to look for gas in fields that may have been drilled two or three times before. "We are beginning to see an increase in production," says Mark G. Papa, chairman of EOG Resources Inc., a large natural gas producer. "But I expect to see high prices continue for much of next year."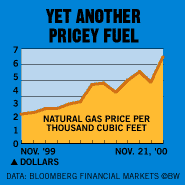 The oil and natural gas price hikes look to be a boon for the nation's coal industry. Because of U.S. environmental concerns, coal has lost ground to natural gas-fired facilities in recent years. Now the freefall may slow. In mid-September, Wisconsin Energy Corp., a gas and electric utility in Milwaukee, announced it is looking to build two new coal-fired plants in order to have a diverse fuel base. That's the first new coal-based generation proposed in the U.S. in at least five years. If oil and natural gas prices stay this high, coal will start looking better and better.
Before it's here, it's on the Bloomberg Terminal.
LEARN MORE