Track Star
Will Amtrak's high-speed Acela put it on track for profits?
Nicole St. Pierre
When it comes to high-speed travel, the trains in Europe and Japan have long made the service on North American rails seem downright pokey. That changes on Dec. 11, when Amtrak's sleek new Acela, from "acceleration excellence," hits the tracks. America's own bullet train will shave 30 minutes off the quickest ground trip between Washington and New York. From downtown to downtown will take just 2 hours and 44 minutes. More impressive is the New York to Boston run. Then the Acela Express will zip along at 150 mph, shortening the clickety-clack time by 45 minutes, to 3 hours and 23 minutes. Naturally, travelers can expect to pay more for the extra speed. One-way fares start at $120, a hefty 50% premium over current Metroliner fares.
By midsummer, 20 of the new stainless-steel Acela trains will be whizzing past familiar 100-mph Metroliners, which will stay in service. (Don't be fooled: These have also been renamed Acela as part of Amtrak's enormous ad campaign.) To tempt business travelers from standard trains and shuttle flights, every seat on the Acela has an electrical outlet for a laptop, plus conference tables surrounded by swivel chairs.
Riders will find cushy seats, extra-wide windows, spacious bathrooms, and overhead luggage compartments, and yes, beer on draft. The question is, will these and other plush amenities be enough to reinvigorate train travel? Amtrak, which perennially takes a red-ink dunking, is banking on it. The carrier predicts its souped-up trains will generate $180 million in revenue by the end of 2002. That's when Congress will pull the plug on federal subsidies on Amtrak's operating costs. Today, Amtrak carries 70% of the traffic between Washington and New York, but the opposite is true between New York and Boston. On that run, Amtrak has only 30% of the market, and air shuttles handle 70% of passengers. "That's where we think our market share can double," says Amtrak CEO George Warrington.
Some analysts wonder how much of the express train's revenues will be cannibalized from Amtrak's regular service, vs. generating new ticket sales from erstwhile shuttle fliers. And if the Acela does steal riders from the the airlines, how will they respond? Despite its efforts to restructure unprofitable routes and operate an on-board mail service, Amtrak posted a $900 million deficit last year.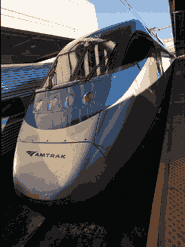 With the deadline for self-sufficiency looming, the success of speedy trains is critical. Ten other rail corridors across the U.S. are gearing up for high-speed rail service. But getting antiquated infrastructure up to snuff isn't cheap. Amtrak has spent $2 billion to beef up track and overhead wiring in the Northeast. Yet 70-year-old electric wiring still prevents the 150-mph train from topping 135 mph south of New York.
When I rode the Acela Express in November, it offered a class of comfort that beats a shuttle flight any day. Train food is still train food. But in the first-class dining room, delivered by uniformed staff and served on china, the dinner sure tasted fine.
Before it's here, it's on the Bloomberg Terminal.
LEARN MORE