Stop The Wilting At Garden Fresh
by
Garden Fresh Restaurant (LTUS), which operates a chain of 84 salad buffet restaurants in 14 states, has seen its stock fall from 14 to 8 in just four months, because of earnings disappointments. So a big stakeholder is pressing management to do something to boost the stock--or else. David Nierenberg, who heads D3 Family Fund and owns 14.3% of Garden's stock, says: "Something substantial and different must be done to maximize shareholder value." He notes that the stock is way under its initial public offering price of five years ago and 39% below book value.
The betting is that a buyout group will seek Nierenberg's help to acquire Garden. One money manager figures the stock is worth 18, based in part on 30 restaurant properties it owns.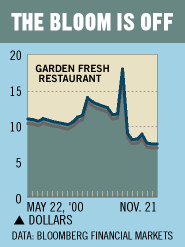 In a 13D Securities & Exchange Commission filing on Nov. 14, Nierenberg said he wanted to be a "positive catalyst" to push the board and management into closing the gap between the stock's depressed price and the company's intrinsic value. He noted that in an industry where companies are acquired at roughly 6 1/2 times cash flow, Garden was trading at just 4 times--suggesting Garden might just as well be sold.
George Lusch of Banc of America Securities expects Garden to earn $1.02 a share in the year ended Sept. 30, 2000, and $1.15 in 2001, compared with 1999's $1.18. Garden didn't return calls.
Before it's here, it's on the Bloomberg Terminal.
LEARN MORE