Playboy's Not So Energized Bunny
The brand's efforts on TV and online are stalling
Pallavi Gogoi
First it was exclusive clubs and buxom bunnies. Then came casinos and licensed products. And more recently it has been cable-TV channels and online "mansion parties." For 47 years, Playboy Enterprises Inc. has been quick to shuffle strategies to keep its aging brand alive, even as readership for its flagship magazine has plummeted. But now, with the Nov. 14 announcement of yet another loss and the cancellation of a long-expected initial public offering, the outfit's newest game plan--a mixture of Internet and TV--is looking like roadkill.
This year alone, as losses have risen, investors have lopped 60% off Playboy's stock, bringing it to under $11 a share. They took 3% off its shares after CEO Christie Hefner announced the $6.51 million third-quarter loss on declining revenues of just $77.9 million. And they've remained cool to the planned $50 million IPO for Playboy.com. "The market wasn't going to give us the valuation that we wanted," says Hefner.
While the dot-com bust has been the big reason for pulling the offering, Playboy has found the Internet a less than swinging place. While Net experts say pornography makes up 35% of all online paid content, Playboy hasn't been able to turn a buck on its mix of articles, pictures, and licensed merchandise. Last year, the company lost $9.07 million on its online ventures, and that's expected to balloon to $24.25 million in 2000, accounting for most of the company's expected $24.5 million in red ink.
Why such a rough go? Competition, for one. It's way too easy to find free pornography on the Internet that's far more revealing than Playboy's modest offerings. And viewers seem loath to pay $60 a year for such extras as streaming videos of parties at founder Hugh Hefner's Los Angeles mansion or celebrity nudie photos from the magazine's archives. Since the subscription site launched in 1997, only 65,000 people have signed up for such goodies. And they don't even get to see the full magazine online. They have to go to the newsstand for that--though fewer readers do. Circulation, which has slipped for over 20 years, is now down to just 3.1 million, less than half what it was in the '70s.
The monthly's prolonged slide is what drove Christie Hefner to dump money-losing efforts pioneered by her dad while pursuing electronic media. Since taking over in 1988, she has chopped costs by closing the last of the once-famed Playboy clubs and selling one of Hugh's mansions. To grow, in 1998 she acquired Spice Entertainment, an adult-TV production company. Then, last year, she inked a $100 million, five-year international TV deal with Latin America's Cisneros Group.
But television, which has become Playboy's most profitable new bet, hasn't exploded as expected. Operating income from its entertainment division, including TV and video, is expected to slide to just $18.55 million in 2000 from $44.53 million last year. The reason: After taking in $30 million up front in 1999, Playboy will now take in smaller annual revenues from Cisneros.
More recently, the Internet has been Hefner's most pricey play. In 2000 alone, she expects to sink $25 million into Playboy.com. Next year she'll leverage that into online gaming, returning to an area Playboy left in the early 1980s. Hefner plans to develop that new business segment by opening a London casino in 2002.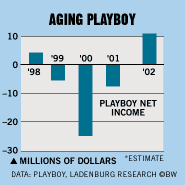 "CONSERVATIVE?" To critics, it's all too little, too late. "The family is extraordinarily conservative. In the hands of a richer and more aggressive guy like Rupert Murdoch, the company could be doing revenues two to three hundred percent more," grouses Mark A. Boyar, president of New York-based Boyar Asset Management, holder of over 400,000 shares. Adds Jack Trout, a brand consultant at Trout & Partners of Greenwich, Conn., the Hefners' company "has been out-Playboyed by a million different places--not only is it not sensational anymore, it's kind of conservative."
Hefner still isn't convinced her efforts to find new media niches for the tired old bunny have been worthless. "Our profit centers will shift from print and publishing into electronic, which are the higher-margin businesses," says Hefner, who expects to turn a profit in 2002. The question is: Can she keep investors interested until then?
Before it's here, it's on the Bloomberg Terminal.
LEARN MORE