Mexico: New Leader, Old Problem: Slow Growth
On Dec. 1, Vicente Fox becomes Mexico's President, the first politician outside the Institutional Revolutionary Party to do so in 71 years. He inherits an economy enjoying robust growth and falling inflation. Unfortunately for the new administration, the good times may not last.
Mexico's economy grew 7% in the third quarter from a year ago (chart), led by consumers. The economy is likely to grow more than 7% for all of 2000, after expanding just 3.7% last year.
For 2001, however, growth will probably slow to 4% to 4.5% for a few reasons. First, the Bank of Mexico has tightened the money supply six times in 2000, and higher interest rates are beginning to cool domestic demand. Second, the expected soft landing in the U.S., Mexico's largest trading partner, will slow exports from south of the border. Last, the revenue boost from higher oil prices enjoyed by the petroleum industry will be temporary.
In addition, Mexico has profited from a five-year decline in inflation. Although a yearly rate of 8.9% may seem high, for Mexicans it is the lowest inflation rate since the peso devaluation in 1994. Inflation could accelerate in 2001 if the economic slowdown causes a decline in the peso, considered by some analysts to be overvalued. A weaker peso would push up import prices and overall inflation.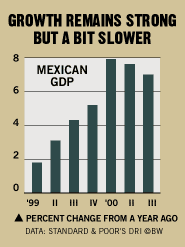 Rising wages could also cause inflation to accelerate. Real wages remain below their pre-devaluation levels, and workers are finally taking advantage of a tight labor market by demanding bigger pay raises. Workers in the booming auto industry this year have won wage hikes averaging 21%.
Such large pay gains mean the Bank of Mexico will continue to pursue a tight monetary policy into 2001. And incoming President Fox has pledged to present an austere budget for next year, complete with spending cuts. Although that will make it difficult for Fox to launch the ambitious social programs he wants, it shows he realizes the need to keep Mexico's economy on a steady keel.
Before it's here, it's on the Bloomberg Terminal.
LEARN MORE