Can Lever Get The Lather Back?
New CEO Banga may have a hard time spurring growth
Manjeet Kripalani
The decor at Lever House in Bombay is a picture of modesty; the only thing that has changed in the past 40 years is the upholstery on the office furniture. But that's what investors have long admired about Hindustan Lever Ltd., India's $2.4 billion consumer-products giant: It's a no-frills company that offers solid value for its customers--and superb returns for its investors. That's also what has made Hindustan Lever a star in the stable of its parent, Anglo-Dutch giant Unilever PLC. The Indian unit contributes almost 10% of group profit and provides talented managers for Unilever's global operations.
These days, however, Hindustan Lever is losing some of its glitter. India's sluggish economy has taken a serious toll, especially in rural areas, where Lever has traditionally been strongest. At the same time, competitors have cut into a Lever market share that in some lines--such as soaps, detergents, personal products, and tea--reaches 70%. Hindustan Lever's third-quarter sales were nearly flat for the first time in three decades. Analysts expect growth of just 5% to 6% this year. And the company's Bombay-listed stock now looks as shabby as its furnishings. It's down 40% from its high of $6.66 last summer. On Nov. 21, it closed at $3.95.
INITIATIVES WITH BITE. The task of steering Hindustan Lever back on track falls to Manvinder Singh Banga, 45, a Lever veteran of 23 years who was named chairman last May. Banga's priority is to regain Lever's historically high growth rates. He has already launched a full-tilt modernization drive within the company while fighting to revitalize crucial relationships among rural distributors and consumers. "Our initiatives will have bite," says Banga. "I will be very impatient if they don't."
But Banga's task looms large. Sales growth has averaged 27% over the past decade, and earnings have topped that: They're up 31% yearly during the same period. Many institutional investors think Lever will have a tough time replicating such returns. The company's problems are structural, says Bharat Shah, chief investment officer at Birla Sunlife Mutual Fund in Bombay. "Even if the company takes corrective steps, it will take a couple of years to get back on track."
It could indeed be a tough climb. India's economic slowdown and the rise of rivals such as Nirma, Tata Tea, and Colgate-Palmolive underscore serious weaknesses at Lever. While the company has spent lavishly on acquisitions in recent years, including tea maker Brooke Bond, critics say it has neglected bread-and-butter products. Famous in India for its market reach, Lever has not kept pace with rivals in the credit lines and other incentives it offers its far-flung distributors. Such complacency has cost the company shelf space. Over the past two years, for instance, Lever has lost almost a quarter of its market share in packaged tea, down from 42% to 33%. Lever's Close-Up toothpaste, once a runaway market leader, is now threatened by Colgate.
Critics say Lever has also failed to cultivate younger managers. Stuck inside an archaic lifetime employment system that includes few financial incentives, some of Lever's best and brightest left for high-tech startups and insurance companies earlier this year. "Lever thought its holy old management system would always carry it through," says a Bombay ad man who used to work on the Lever account. "But it has got to keep itself and its systems young."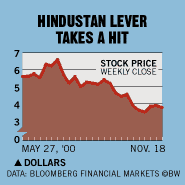 Banga is determined to do just that. Since his appointment, he has labored to revive ties with distributors while adding businesses such as laundromats and beauty parlors. Banga also hopes to introduce innovative products, such as multipurpose soaps, that will help Lever recapture its lead. On the management side, he's instituting stock options and hastening career tracks for rising execs. "I'm very keen to make us a youthful company," Banga says. His credentials impress: Before becoming chairman, Banga led a spectacular turnaround in the detergents division--and pummeled rival Procter & Gamble Co. in the process. Such triumphs hearten some investors. "Lever is a phenomenal company going through a bad time," says Asit Shah, consumer-products analyst at Credit Suisse First Boston, which recommends the stock. "It has emerged strengthened from crises before."
Others aren't so sure. Birla Sunlife Mutual Fund sold its $18 million position in Lever last June. "It took its eye off the ball," says Bharat Shah. "Now it's a struggling business in a slow economy." Indeed, it may be time for a more radical makeover--right down to the furniture at Lever House.
Before it's here, it's on the Bloomberg Terminal.
LEARN MORE