What happens to all the waste spewed out by oil and gas drilling? In spite of new technologies that have sharpened drilling efficiency, analysts expect oil field detritus to hit the peak levels last reached in 1997. Such a concern, however, is a bonanza to Newpark Resources (NR), a Big Board-listed provider of environmental services to oil-and-gas explorers. Newpark processes and disposes of exploration and production refuse, including that contaminated with radioactive material.
That's reason enough for some to snap up Newpark shares. But there is another angle: The likes of Halliburton or Baker Hughes, both major oil drillers, could end up buying Newpark.
One investment banker says Halliburton talked to Newpark last year--but no deal. Now, an investor close to Newpark says Halliburton has "returned for another approach and a new offer." Halliburton and Baker Hughes declined comment as a matter of policy. Newpark also won't comment.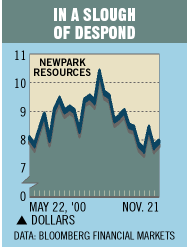 Shares of Newpark, trading at 10 1/2 in August, have fallen to 7 11/16, even though Newpark's business--mainly in Louisiana and Texas--has picked up. It recently added on-site processing of wastes to its services. "It is rapidly expanding its capacity," says Robert Trace of Hibernia Southcoast Capital, who rates the stock a strong buy, with a 12-month target of 20.
Newpark is receiving 5 million barrels of waste a day, says Trace. New Environmental Protection Agency rules calling for reduced discharges into federal waters will boost the demand for Newpark's services, he says. That, plus the rise in rig operations, should allow Newpark to boost prices. The analyst figures the company will earn 17 cents a share in 2000 and 50 cents in 2001, vs. 1999's 21 cents loss.
Before it's here, it's on the Bloomberg Terminal.
LEARN MORE