Will They Gentrify The Jewish Quarter?
Ruth Ellen Gruber
It's Saturday, and the plastic-covered tables at the Kadar restaurant in downtown Budapest are filled with diners digging into matzoh ball soup and solet, a dish of slowly baked beans traditionally served on the Sabbath. Kadar is on Klauzal Square in the Seventh District, a rundown quarter that was a center of prewar Jewish life. The no-frills lunchroom is a fixture here, and pensioners and workmen rub shoulders with local celebrities, some of whom are immortalized in photos on the walls. The gurgle of seltzer siphons punctuates the clamor as a waitress shouts orders, slaps down plates, and hands out glasses of a bright red drink made from raspberry syrup.
The scene seems timeless, and in some ways it is. Budapest is still home to 80,000 Jews, and while the younger and more affluent live elsewhere, a rich aura of the past endures here. There is something of New York's Lower East Side about the Seventh. But much of Budapest's down-home charm is fast disappearing amid a post-communist onslaught that has brought shopping malls, fast-food outlets, and multiplexes. In effect, the Seventh stands at the edge of changes that may mean the end of life as Kadar's clientele knows it.
It's all about location, location, location. Budapest's building boom so far has largely bypassed the Seventh. Neglected since the Holocaust, the district remains one of the city's poorest boroughs. But from Klauzal Square it's just a 15-minute walk to the fashionable hotel and commercial zone along the Danube. It is even closer to Andrassy Avenue, the city's most elegant thoroughfare, and to such cultural attractions as the opera.
In short, the quarter is ripe for urban renewal. And that is prompting a mix of hope, fear, doubt, and consternation among residents, preservationists, entrepreneurs, and city officials. Change is necessary--and inevitable. The question now is how to husband it--how to balance planning with individual efforts so development can preserve and protect as well as renew.
Already, one sees signs of gentrification. There's more variety--and more life--in the district now, and real estate values have shot up, too. Last year I bought a dilapidated little apartment on the fringe of the district; its value has since increased by more than a third. But so far, at least, new arrivals have made little dent in the overall decay. World War II bullet holes pockmark many grimy facades, and vacant lots yawn. Around the corner from me, Kiraly Street, once the Jewish quarter's main commercial artery, boasts elegant, 19th century structures listed as historic monuments. But many are shabby. And despite the trill of cell phones and a few new boutiques and restaurants, many stores are boarded up; others sell cheesy textiles or secondhand appliances.
"The whole area is terrible," sighs Zsuzsanna Simonyi, who opened a modern Judaica gallery last year a few doors down from a synagogue that has stood empty for years. "But I'm sure that the neighborhood can come up. It'll be a slow process, but if I didn't have some hope, I wouldn't be here."
DRAMA. Simonyi pins her hopes partly on a development project aimed at turning the Seventh into a business and retail center. Known as the Madach Promenade, it would be anchored by a pedestrian mall zigzagging through the neighborhood. Offices and commercial blocks would line it, with several streets widened for traffic. A number of buildings are to be demolished and low-income families shifted out.
One focus of the project is the transformation of six linked courtyards called Gozsdu Udvar, or Court, into a shopping arcade akin to London's Covent Garden. Built nearly a century ago, the complex forms an extraordinary urban space that stretches like a tunnel through a long city block. Most tenants were moved out six or seven years ago, and the seven big tenements that separate the courtyards stand in haunting decay. Footsteps echo here; the intense drama of the transition from court to court, from darkness to light, makes walking through the passage an eerie and evocative experience. A joint-venture real estate company signed a contract to buy and develop Gozsdu Udvar this spring. The plan is to spend more than $8 million on a complex of shops, hotels, and apartments.
Officials here insist that the plan is the only way to revive the neighborhood and save some of its architectural heritage. "Besides attracting business capital, our goal is also to attract high-income people who will pay more taxes and have more money to renovate and maintain their apartments," Seventh District Mayor Zoltan Szabo told me when I met him earlier this year.
But preservationists and activists fear the project will destroy the human and urban fabric that gives the zone its identity. They envision a yuppie wasteland in which diversity and character are sacrificed to profit. And they accuse authorities of "demolition by neglect," by letting buildings deteriorate to the point that they must be razed. "We have to see a neighborhood as a whole--not just as a physical structure, but a sociological structure," says Janos Ladanyi, a sociologist and resident.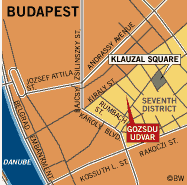 The Madach plan is no sure thing. Financial shortfalls are one potential snag. And there also is what might be called a psychological block. The Madach Promenade, in fact, is the latest incar-nation of a grandiose dream that city planners have tried to implement at intervals over the past century. The failures left the district in limbo, compounding damage done by war and communist-era neglect. Three years ago, architect Andras Roman singled out the Madach plan as an example of how a bold but misplaced vision contributes to urban blight. In "The Tragedy of an Avenue," which appeared in a Budapest cultural journal, Roman traced the failures to the city's behavior as a living organism. City planners, he wrote, "didn't realize that a city wants to progress by its own rules. It is an inner process that resists the artificial."
Today, despite all the plans, this process persists. In fact, many locals doubt that the Madach scheme will ever come to pass. But the state of limbo may turn into a fait accompli. Demolition by neglect is a byproduct of inertia, and vacant lots can be more valuable than those with old buildings on them. The Seventh will change, but perhaps not as anyone now envisages.
Before it's here, it's on the Bloomberg Terminal.
LEARN MORE