Where's My Dream Car?
Why built-to-order autos aren't rolling out of cyberdealerships
David Welch
All Brenda Clough wanted was a new Toyota Celica without a tacky spoiler on the trunk. But not one of the six dealerships near her Northern Virginia suburb could come up with one, even though spoilers are listed as an option on the car. "I told my dealer it was a deal-breaker," says Clough, 45. Just as shocking, though, was when the science-fiction writer discovered that it took three months of surfing the Internet and old-fashioned phone calls to Toyota dealerships in surrounding states before she could find a Celica sans spoiler. Clough bought the car, even though it lacks anti-lock brakes, side-impact air bags, and a winterizing package--all of them options she would gladly have paid a few thousand dollars to get.
Such buying experiences were supposed to soon become a thing of the past. It has been more than a year since Ford Motor Co. and General Motors Corp. announced with much fanfare that they would harness the Internet to revolutionize the way they built and sold cars. The companies said they would spend millions to explore how to deliver cars the way Dell Computer Corp. spits out computers--taking a customer's order, building exactly that vehicle, and delivering it within a couple of weeks. The goal: Let customers use the Web to get what they want and feed that information back through the system to dealers, suppliers, designers, and factories to smooth out the entire process.
Yet today the way you buy cars has changed hardly at all. Close to 90% of car buyers still get their cars out of existing dealer stock, and 40% make some kind of compromise on styling. And nothing has changed if you want to order a car that's not available in inventory: It takes 30 days before the auto maker's order system accepts the request and 10 more to get the order into the production schedule. Add 3 days to build and 15 days for shipping, and it's easily two months before your custom car is delivered. Auto makers now are trying to cut the delivery time in half, but it could be up to 10 years before true build-to-order systems are widespread. Mark T. Hogan, president of GM's e-GM e-commerce unit, concedes, "It's still in the formative stages."
EASIER SAID. That has left many observers wondering if carmakers were just blowing a lot of e-smoke last year. Lost, they say, was a realistic sense of just how much companies would have to tear things up. Auto makers have been laying the groundwork to build custom cars, but they are finding that connecting dealers, assembly plants, and suppliers in one seamless Internet chain is no simple task. "To move to a true build-to-order system will take a monumental change," says Michael Robinet, managing director of automotive research outfit CSM Forecasting Inc. in Northville, Mich.
Auto executives say they haven't given up. Limited build-to-order systems may be in place in the next couple of years. GM, for instance, is starting to build custom versions of its Celta compact in Brazil. Starting early next year, it plans to offer one-week delivery, which is possible because the car has only a few combinations of options. But it will take GM several years to implement similar plans globally, says Anthony C. Koblinski, GM's executive director of order-to-delivery projects. In time, he says: "We think we can make it easier for customers to choose, and reduce the complexity that the factories face."
Meanwhile, Detroit is moving forward with less ambitious Internet buying initiatives. These test programs work to find the desired vehicle within existing inventory--with the right combination of colors, options, and amenities--and get it to the buyer the same day. There's no schlepping around, since the inventory is all listed online. And by agreeing to join the network, dealers--who have resisted the idea of building cars to order--already have agreed to trade cars at prices that are available on the Web.
Car execs insist that such systems could still make a big difference for customers--and if applied on a wide scale, could save billions for car companies and their support systems. "The big money," says Gary E. Dilts, DaimlerChrysler's vice-president for retail strategies and dealer relations, "is your ability to react to the market."
COSTLY COLORS. That means forget Dell for now. The auto makers would be happy to become as advanced at meeting demand as Wal-Mart Stores Inc. The Arkansas-based retailer excels at tracking the buying habits of its customers and making sure the right stock is available where and when it's needed. The car companies, by contrast, currently plan production with an educated guess at what demand will be for certain models. If they're wrong--and they often are--dealers sell cars with unwanted colors and options by cutting deals. "Today, we build a certain number of vehicles and try to sell them," says Brian P. Kelley, a Ford vice-president and president of the company's Consumer Connect e-commerce unit. "Tomorrow, we will build vehicles that there is demand for."
Some experts doubt that building truly customized cars on demand will ever attract mass interest. What buyers really want is to go to a dealership and find a vehicle that has the right color and perhaps a couple of options, says Maryann Keller, who resigned as president of Priceline.com Inc.'s auto retail group in early November. Most consumers who bought cars from Priceline had strong preferences for color, interior amenities, engine size, and safety equipment, but didn't care about customizing the rest, she says.
So it may be that auto makers just need to do a better job of matching inventory to demand. And in that regard, Detroit is working to get ahead of the Japanese. Ford has launched a pilot program in Canada that will locate an exact vehicle for a customer's specs--currently confined to Focus compacts, Taurus sedans, and Windstar minivans--and get it to a nearby dealer. It worked for Carol Sage, who found her Windstar minivan online using Ford's program. A single mother in St. Catharines, Ont., Sage says she doesn't have time for car shopping. She was happy to let the dealers find her exact car choice after she plugged her specs into a Web site. Says Sage: "If you don't have four or five hours to go to the dealership, it's the way to go."
Ford plans to expand the system, called FordDirect.com, and roll it out in California next year. GM has a similar pilot program in Minneapolis, where Oldsmobile Alero buyers can choose a car from the inventory of one of several dealers in the area. In a couple of months, GM will add a feature that allows build-to-order of sorts: If your car of choice can't be found in one of the seven pilot dealerships, GM's assembly plant in Lansing, Mich., will custom build it with a target delivery time of 15 to 30 days. Meanwhile, Toyota, which announced plans for a five-day delivery system last year and then recanted, is working with Seattle dealers to pool inventory and trade cars to satisfy customers.
But if they hope to expand such systems beyond local markets, carmakers will need more sophisticated technology to track consumer shopping habits and match them with inventory. That's why Ford has tapped software maker Trilogy to set up a system similar to the one used by Wal-Mart. "The auto manufacturers still don't have great information about what consumers are shopping for," says Chris Porch, CEO of the Ford-Trilogy venture.
LESS GUESSWORK. The potential payoff is big enough, though, that they're likely to keep trying. Andersen Consulting estimates that auto makers could boost per-vehicle profits by as much as $850 if they had the right vehicles in inventory. Forrester Research Inc. estimates that the dealers and manufacturers could add $7.7 billion to their bottom lines if they didn't have to drop the price to sell a vehicle that wasn't what customers wanted. Says GM's Hogan: "If you're more precise with inventory, customers will be less concerned with price."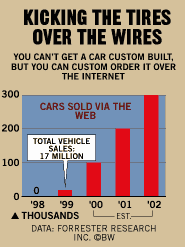 That would also play to the concerns of local dealers, who have so far proven remarkably resistant to predictions that they would be supplanted by e-tailing or national car-sales chains. Dealers balk at build-to-order schemes--after all, the last thing they want to do is tell a customer to wait for a newly built car when they have cars on the lot to push. "The instinct is, we've lost a sale," says Cliff Johnson, a Fort Worth Ford dealer. However, he says dealers are willing to trade within their inventory under FordDirect.com.
Cars probably will be sold pretty much as they are now for the foreseeable future. Detroit may not be able to deliver yet on its futuristic vision of custom-built cars, but someday soon it could at least have more of the right vehicles in stock. And even that would save buyers like Clough some truck-size headaches.
Before it's here, it's on the Bloomberg Terminal.
LEARN MORE