The Philippine President Who Won't Go Away
Estrada keeps hanging on--and dragging the economy down
by
When the Philippine House of Representatives approved a motion to impeach President Joseph Estrada on Nov. 13, dozens of members cheered and traded high-fives. The following day, stockbrokers wearing black armbands joined thousands of protesters in the streets of Manila to demand that Estrada quit over allegations that he accepted bribes from Luis Singson, a provincial governor.
The question now is whether Estrada, whose party has firm control of the Senate that will try him, can remain in office. His chances dimmed visibly when new allegations surfaced from a highly credible source. Perfecto R. Yasay, a former chairman of the Philippines' Securities & Exchange Commission, came forward to allege that Estrada took a $20 million kickback from the 1998 sale of the Philippine Long Distance Telephone Co. to a subsidiary of First Pacific Co., a Hong Kong conglomerate. Yasay is far more believable than Singson, who openly admits he accused Estrada of taking bribes because the President awarded a gambling license to a rival.
That a man of Yasay's reputation would fling himself into this nasty political battle shows just how much the country's business and financial elite has turned on Estrada. Even former Presidents Corazon Aquino and Fidel V. Ramos are urging Estrada to resign. Until he does, Ramos told BUSINESS WEEK, "the Philippines will be known as the sick man of Asia. Every day he stays in power brings us further down."
The troubles of the Estrada presidency are especially galling for Ramos, who got high marks for his management of the economy during his six years as chief executive. He liberalized foreign investment laws, privatized state-owned companies, and stabilized the power supply in a country where brownouts were a daily occurrence. Estrada, by contrast, has presided over a flailing administration that has done little to advance economic reform and everything to revive charges of corruption and crony capitalism.
DISAPPEARING INVESTORS. As a result, such important foreign investors as Royal Philips Electronics and Johnson & Johnson have pulled out. Direct foreign investment, crucial in a nation of indifferent savers, has fallen from $1.3 billion in 1996 to $120 million in the first six months of this year. Hardest hit are Philippine manufacturing and electronics companies, which account for 35% of exports.
Since allegations of Estrada's bribe-taking became public in October, the economy--which may not meet its modest growth target of 4% this year--has been hit even harder. The peso recently traded at 51.95 to the dollar, a historic low. To halt the currency's plunge, the central bank hiked interest rates 400 basis points, putting a squeeze on cash-poor small and medium-size businesses.
Estrada's recent executive decisions reflect a man desperately clinging to power, regardless of the consequences. On Nov. 12, his administration proposed suspending a 3% fuel excise tax for three months--despite dire warnings that the government could ill afford the loss of revenues. The move was widely seen as an attempt to shore up Estrada's political base among poor, rural voters.
Estrada shows no signs of making a graceful exit. An impeachment trial in the Senate could drag on for months because the president must win only a third of the votes to avoid losing his job. Still, few thought the impeachment process would get this far. On Oct. 18, when the initial complaint was filed, Estrada enjoyed the backing of more than two-thirds of the House of Representatives. His support dissolved after a series of defections, including the resignation of Trade Minister Manuel Roxas II.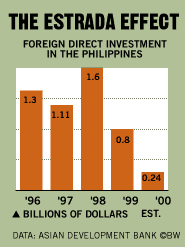 The PLDT allegations may be the final nail in his political coffin. While First Pacific denies making any payments to Estrada, it has said nothing about the man who brokered the deal, Mark Jimenez, a longtime crony of the President. Says Yasay: "I cannot help but believe there is a deliberate suppression of evidence--and a cover-up."
As the final act unfolds, waiting in the wings is the woman who might be the next President. Gloria Macapagal-Arroyo, a PhD in economics from Georgetown University, vows to revive the momentum that began under Ramos. She has the backing of much of the business community. That's good--but the damage will take years to repair.
Before it's here, it's on the Bloomberg Terminal.
LEARN MORE