South Korea: The Pain Means Reforms Are Kicking In
by
Korea has shifted its reform effort into a higher gear. The Nov. 8 bankruptcy of Daewoo Motor Co. makes that clear, especially since it closely followed a listing by lenders of 52 credit-strapped companies, 29 of which were labeled nonviable. Eighteen of those companies are now targeted for closure. The short-term pain of reform will depress economic growth beginning this quarter and into next year.
Spillover effects will hit at a bad time. Economic growth is already slowing, as oil-driven inflation erodes consumer buying power. Both household and corporate outlays are sure to slow further, even as export demand is cooling off. Foreign shipments of electronic components and motor vehicles have been central to Korea's recovery from its 1998 recession. However, output of both semiconductors and transportation equipment has fallen sharply in recent months.
The Korea Labor Institute estimates that the jobless rate will rise from 3.6% in September to 4.7% by February, as companies close and workers are laid off. Private economists think the rate could go higher, especially given Daewoo's extensive network of suppliers and subcontractors, many of which will be left out in the cold.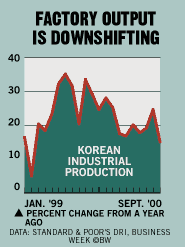 After posting Asia's fastest growth rate in 1998, 10.9%, Korea is expected to grow 8.9% this year and in the 5%-to-6% range next year, according to the country's central bank. Third-quarter growth is expected to look strong, but given recent weakness in industrial production and retail sales, in addition to rising inventories, fourth-quarter growth is looking much weaker. September industrial output plunged 4.3% from August, and the growth rate compared with a year ago is falling (chart).
For next year, crucial factors in the near-term outlook will be the performance of global demand and the speed of reforms, especially the resolution of the problems at debt-ridden Hyundai Engineering & Construction Co. The government has vowed to complete this latest round of reforms by the end of the first quarter of 2001.
Before it's here, it's on the Bloomberg Terminal.
LEARN MORE