Is Gehl Heading For A Harvest?
by
The pressure is mounting on Gehl (GEHL), a maker of farm and light construction equipment, to take swift action in the face of sagging earnings and soggy stock. Two major investor groups are urging the company to come up with options to boost shareholder value--including putting the company up for sale. Behind the move are Heartland Advisors, which owns 8.5%, and a group headed by takeover artist Harold Simmons, which has 6.3%.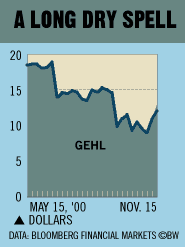 In a recent letter, Heartland President William Nasgovitz reminded Gehl's board that it had a "fiduciary responsibility to respond decisively" to severe problems plaguing Gehl. And a group composed of CIC Equity Partners, Newcastle Partners, and Simmons' Contran warned that it may make a bid for Gehl.
Paul DeRobbio, managing director at CIC Equity, says the group will either seek control of the board or make a tender offer. In June, CIC proposed to buy Gehl at a substantial premium to its trading price. The offer was rebuffed, says DeRobbio. He hopes Chairman and CEO William Gehl will "respond more positively" when the Simmons group makes its next move.
DeRobbio notes that the stock, which hit 19 in June, collapsed to 8 in mid-October before bouncing to 12 recently--mainly because of renewed buyout rumblings. Gehl didn't return calls.
Before it's here, it's on the Bloomberg Terminal.
LEARN MORE