Daimler's Designated Driver
Can Dieter Zetsche clean up the mess at Chrysler?
Joann Muller and Jeff Green
It was a short, bitter stretch at the top for James P. Holden, Chrysler Group's chief executive. After presiding over a disastrous year at the battered carmaker, the 49-year old sales and marketing veteran was forced out on Nov. 17 by an impatient boss, DaimlerChrysler CEO Jurgen E. Schrempp. Now it's up to Dieter Zetsche, a trusted Schrempp deputy, to stem the flow of red ink at what had been the world's most profitable carmaker just two years ago.
But there's more at stake than just saving Chrysler. The poor performance from Detroit is weighing down profits at the entire company. Now Schrempp's credibility--and maybe even his job--is on the line. "If Chrysler turns out to be a complete disaster, there has to be a price to pay," says Deutsche Banc Alex. Brown analyst Rod Lache. "He's definitely under pressure."
BLINDSIDED. So far, Schrempp hasn't come close to proving the merits of the 1998 union of Daimler-Benz and Chrysler. Promised synergies haven't materialized. Chrysler lost $512 million in the third quarter, thanks to its heavy use of incentives. That sent Daimler's own operating profit down a sharp 79%, to $477 million. And its stock has slid to $45 from a high of $108 in early 1999.
Nor is a quick fix likely. Zetsche takes over a rapidly deteriorating unit whose forecast only gets gloomier. Chrysler is now expected to lose as much as $300 million in the fourth quarter. "Analysts are telling us now that we'll see no earnings from Chrysler next year," says Klaus Martini, chief of European equities at Germany's biggest investment fund, DWS Investment.
A growing sense that Chrysler's problems continued to deepen finally cost Holden his job. Just a year ago, Schrempp was high on the affable exec. But as Chrysler's revenues flagged, Holden blamed a tough U.S. market that required heavy incentives and the high cost of factory changeovers for new models. Sources close to Schrempp say he felt Holden was hiding bad news and that Holden didn't have a good handle on problems.
The last straw came in late October when Schrempp was blindsided by news that an inventory buildup would force Chrysler to idle seven factories, at a cost of of some $350 million. That came just days after Holden's assurances that Chrysler would turn a fourth-quarter profit of $100 million.
Can Zetsche get things back on track? The 47-year old exec is well-respected by managers at both Daimler and Chrysler for his solid results. He led a turnaround at Daimler's U.S.-based Freightliner truck unit in the early 1990s. Later, as head of DaimlerChrysler's truck business, he held profits steady despite an industry glut. Moreover, he's bringing a team of executives from Germany, including new Chief Operating Officer Wolfgang H. Bernard, an engineer who worked for the consultants McKinsey & Co.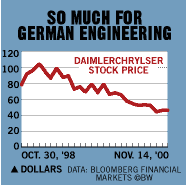 But turning Chrysler around will take far more than cost-cutting. Zetsche will have to bridge the cultural divide and mistrust that has developed between Daimler and what remains of Chrysler's American management. Furthermore, Zetsche has no experience in the mass automotive market. True, he briefly ran worldwide sales and marketing for Daimler. But he didn't get much experience managing consumer incentives, which will play an increasingly important role in the slowing U.S. car market. And Chrysler's unions are likely to be wary. While Zetsche was head of DaimlerChrysler's commercial truck unit, Freightliner engaged in a bitter battle to keep out the United Auto Workers.
After two years of failure, however, Zetsche may be Schrempp's last hope for making the Chrysler merger pay off. With a direct line to Stuttgart, at least headquarters shouldn't be in store for any more surprises.
Before it's here, it's on the Bloomberg Terminal.
LEARN MORE