Conservation: Been There, Doing That
Higher fuel prices spur efforts, but in many industries, saving is business as usual
Nicole St. Pierre
Glassblowing isn't just about lone artisans making decorative vases anymore. For many, the craft has evolved into a sophisticated industry, complete with lasers, high-tech cutting machines, and, yes, worries over energy costs. With good reason: Glassblowing companies--especially the small-scale shops--rely heavily on fuel to generate all that heat.
Yet despite their voracious energy appetites, not all glassblowers were panicked about recent steep hikes in the cost of fuel. Executives at Blenko Glass in Milton, W.Va., can explain that. Two years ago, when energy prices were near a low for the decade, Blenko enlisted energy-saving help from West Virginia's Industries of the Future Development Office. The result: a more efficient laser cutter, a tool used to separate finished glass pieces from the burner. Once this device is in place, Blenko expects to reduce the amount of energy used in the manufacturing process by half.
The glassmaker's energy savings effort was certainly timely. But Blenko isn't alone. While many companies obsess over crude oil prices that are hovering at near $30 a barrel, the real story is how much conservation has already become woven into the fabric of business. The National Association of Manufacturers (NAM), says 85% of its members have adopted some form of energy-efficiency technology in the past five years.
In fact, the conservation trend goes back much further than that. Big manufacturers blazed the energy-savings trail in the wake of the oil shock of the early 1970s. Small and mid-sized shops have followed suit, often with the help of government agencies. Since then, government regulations, coupled with a fiercely competitive business environment, have motivated most manufacturers to curb their consumption. "In manufacturing, there has always been some political or economic benefit to be gained from conserving," says Mitch Rosenberg, vice-president of Xenergy Inc., an energy consulting firm based in Burlington, Mass. "Rising costs just make people look at conservation a little harder."
In some cases, plants have been able to slash energy costs by as much as 15% a year. They've achieved this mainly through straightforward measures, such as replacing aging fan belts in machines and installing more efficient compressors. Elsewhere, conservation may mean adopting more advanced technologies, such as compressed-air and heat-exchange networks, to help generate cheaper power and lower heating/cooling costs.
Following just such a program, consumer-goods giant Johnson & Johnson has slashed its energy usage by 21% since 1991. The New Brunswick (N.J.) company replaced inefficient air conditioners and chillers, upgraded lighting, and implemented an energy-management system that continually monitors energy use and identifies cheaper energy sources. As for the recent price spike, "It won't necessarily change the way we do things, but it may accelerate the implementation of some practices," says J&J engineer Harry Kaufman.
Multiply these sorts of changes across the entire industrial sector--which consumes more than 40% of the nation's oil--and the net results are impressive. One way to understand this is to look at how much energy it took to produce a variety of industrial goods 30 years ago versus now. Back in 1970, it took 24 units of energy to create a dollar's worth of industrial goods. Last year, it took just a little under 16 to produce the same inflation-adjusted amount (chart).
In other words, even when oil prices were low, manufacturers were keeping tabs on waste. And that paid long-term dividends. "Permanent structural changes have been taking place in manufacturing processes that will not reverse themselves when prices drop," says Amy M. Jaffe, a senior energy analyst at Rice University in Texas.
SPIKE HELPS. Bethlehem Steel Corp. offers a case in point. Last year, the Bethlehem (Pa.) steelmaker developed a burner that reduces the fuel consumption in some parts of production by 60%. Would the company have taken that initiative without sharply rising fuel costs? The industry's track record says yes. Since 1975, the amount of energy required to produce a ton of steel has fallen by 45%, mainly through the introduction of more efficient boilers.
Even for likes of Bethlehem Steel and J&J, the recent price spike has renewed the incentive to save energy. Trouble is, there may be fewer options available today than in the past, especially for operators that are already highly efficient. In the 1980s, when the price of oil was high, many companies switched to lower- cost natural gas. But this time around, the prices of electricity, natural gas, and oil have been rising pretty much in parallel across the country.
Conservation remains the best alternative. Consider Weyerhaeuser Corp., based in Federal Way, Wash. When natural-gas prices started to climb this year, the forest-products company decided to boost conservation efforts at its round-the-clock paper and pulp mills in the Northwest. Although Weyerhaeuser has relied on natural gas in the past, early this year the company began to use less-polluting grades of coal to cut costs. It also evaluated the paper mill's lighting, machine motors, and installation of wires and insulation in walls to make sure they were up to snuff.
This is nothing new for Weyerhaeuser. The company is a veteran at coping with volatile energy prices. Two years ago, with oil prices near a 12-year low, Weyerhaeuser assessed and implemented the use of steam, hydropower, and thermal energies to cut costs. Like Weyerhaeuser, many energy-intensive chemical and petroleum processors are now using excess steam from boilers to generate air conditioning and electri-city--a method known as co-generation.
Some simple conservation techniques that industry is latching onto were first devised in the 1970s and later abandoned when energy prices softened. For example, light pipes are making a comeback. These long, mirrored tubes funnel natural light indoors, far from windows, and cut the need for electric illumination.
COMEBACK. Companies are also relearning the art of fine-tuning thermostat settings, as well as leaving some unused rooms in the dark. According to a July survey by NAM, 40% of the nation's producers are seriously considering implementing employee energy-efficiency campaigns. "A number of companies used these methods years ago, and eventually they fizzled out. But with the increase in energy prices, they are starting to come back," says R. Neil Elliott, a senior associate at the American Council for an Energy Efficient Economy.
The good news is that even conservation laggards have more resources at their disposal than at any time in the past. "Some corporations are in shock right now," says Gill McCoy, an energy engineer and environmental consultant at Washington State University. "Manufacturers keep calling to find out how they can put together energy-management teams to assess their plants and find out where the waste is," he says.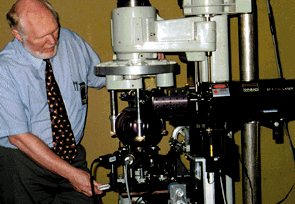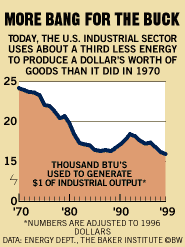 Like Blenko Glass, many small businesses have turned to government agencies and outside consultants for help. This is no big novelty for large manufacturing companies. But now, says David S. Terry, director of the National Association of State Energy Officials: "Smaller manufacturers are really starting to change things, too."
Not all companies have taken the lessons of conservation to heart. According to the NAM, most manufacturers believe that energy prices will fall early next year. So they haven't all been placing panicked phone calls to energy consultants. But most of them can be thankful that their energy efforts of the past three decades will continue to produce valuable dividends.
Before it's here, it's on the Bloomberg Terminal.
LEARN MORE