Can Fiorina Reboot Hp?
The new chairman's restructuring raises expectations, as the company seems to falter
by
Carleton S. "Carly" Fiorina has received plenty of accolades for breathing new life into Hewlett-Packard Co. since taking over the computer and printer giant in mid-1999. But on Nov. 13, such talk seemed a distant memory. After she announced fourth-quarter earnings of 41 cents a share, 10 cents below expectations, the stock skidded 14%, to less than $34. And while news that a proposed $18 billion purchase of consultants PricewaterhouseCoopers had been canceled brought relief to investors, it was a big blow to Fiorina's makeover.
So how did Fiorina respond? She shocked analysts by raising revenue-growth projections for next year from an ambitious 15% to 17%. "We have issues, but we understand them and will deal with them," she explains.
Is this the sign of a supremely confident CEO--or one who is riding for an even greater fall? Fiorina sees something analysts and investors don't--and for now, there's no doubt inside. "The board totally supports her," says ex-Chairman Richard A. Hackborn, who handed Fiorina the title just weeks ago.
Fiorina argues that the recent earnings surprise will be just a bump in her plans to transform the workaday maker of PCs and printers into a leading light of the Internet. The question, though, is whether the potential rewards from her ambitious plans will materialize quickly enough to give revenues such a boost--and whether HP can keep delivering earnings as it stretches to meet her top-line goals. "I don't see how she can do both," says Salomon Smith Barney analyst John B. Jones.
NET-POOR. The new forecasts certainly seem a stretch. Most of HP's growth is coming from low-margin consumer businesses that are slowing. Almost none of it stems from the lucrative Net-related markets she covets, such as servers, storage, e-business software, and services. According to Sanford Bernstein, sales of printers and PCs account for some 73% of the company's $49 billion in sales. Servers, storage, and the like make up just 7%. "The fear is that she's asking too much of the company," says Jones.
In part, that stems from worries that Fiorina is spending too much time overhauling HP's broad structure, and not enough attending to nitty-gritty operations problems. The earnings shortfall resulted from myriad operational issues, including higher expenses as well as losses related to currency and dot-com investments. Costs, for instance, jumped in part because of cushy new sales commissions designed to galvanize a sluggish North American sales staff. While that paid off in revenue growth--the company delivered brisk 17% sales gains--there was a price. Salesmen hit quotas by focusing on lower-margin products. Now management is recalibrating commissions to drive higher-margin goods such as software.
Moreover, the company is just finishing an enormous restructuring. Its 83 formerly fiercely independent units have been combined into four basic groups: consumer products, such as PCs and inkjet printers; consumer sales and marketing; and two similar groups for the corporate world. Arguably, the streamlining should aid decision-making. But for now, it continues to be a logistical nightmare. Managers have only recently gotten a sense of their new roles amid the shifting organizational sands. And as of Nov. 1, they also have to get used to a new financial reporting system.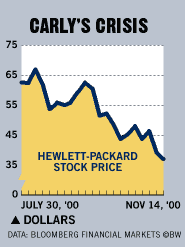 Larger strategic challenges loom, too. Sure, HP deserves credit for perfecting the art of selling PCs: With 40%-plus sales growth in recent quarters, it has even outpaced Dell. But unless it can finally make good on promises to gain share in more lucrative e-business markets, it may find itself as king of a commoditized market not worth owning.
To be sure, there's time to get things right. A six-month-old, 12-person strategy council is reining in Hewlett's fragmented efforts to make a big splash in key markets. Fiorina has injected renewed life into a disillusioned sales and R&D corps. And new high-end servers should help as well. "I didn't take this job thinking it would be quick or easy," says Fiorina. "But I know what we're doing is right." At this point, fewer people are taking her word for it.
Before it's here, it's on the Bloomberg Terminal.
LEARN MORE