business
Grandma Gets The Net
By
Older women, along with their granddaughters, are leading the rush online
I have plenty of female friends who use the Internet. Still, while giving a talk about the Web to high school students in Chicago in October, I was surprised by the sea of shoulder-length hair and lip gloss before me. Of the nearly 40 students who filed into the computer lab, more than 30 were girls.
Hold on to your suspenders, gents. Women rule the Web. The 61 million women now online make up 51% of U.S. Internet users, according to Jupiter Media Metrix Inc. What's more, the number of female surfers is growing 35% yearly, three times the rate of men. "There's suddenly an opportunity to program sites for women and really tap into their needs," says Jupiter analyst Anya Sacharow.
Most astonishing, though, are the two age groups leading the charge. One is the giggling crowd crammed into that computer lab, and the other--surprise--is their grandmothers. The number of 12- to 17-year-old girls on the Net increased 126%, to 4.4 million, during the 12 months that ended in May, Media Metrix says. Women 55 and older were up 110%, to 3.3 million.
So wake up, Web merchants, and feminize your sites. Women are responsible for 80% of household purchases, says portal Women.com Networks Inc. (WOMN) Even so, many e-tailers don't consider their sensibilities. Lots of gadgets and busy design, for example, reflect a male bias that turns off women, according to a survey by ad agency Leo Burnett. Like Sunday afternoon beer ads with ridiculously voluptuous women, too many Web sites cater to men.
As the Web gets easier to use, older women are rushing online. But these newbies need a "bridge" between the physical and virtual worlds, says Cheryl E. Mayberry, founder of NiaOnline, a portal for African-American women. NiaOnline's bridge is a catalogue that's mailed out to site visitors. You can buy online without the catalogue, but it helps ease the transition for anyone uncertain about e-commerce. "It gives women something they're familiar with," Mayberry says.
Helping women navigate the unfamiliar will keep them on a site, according to the Burnett survey. "If women are frustrated, they leave," says Denise Fedewa of LeoShe, a Burnett unit that researches women's tastes. That means customer service is key. Garden.com (GDEN), for example, attracts twice as many women as men. One reason: a handy "help desk" that features live chat with service reps.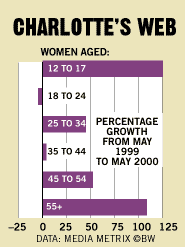 Interaction like that is what Dorothy R. Cunningham, 66, likes most about the Internet. The Army retiree, who first went online in January, saved $100 buying a plane ticket online. A bigger thrill: e-mailing friends about the bargain. Of the Net's attractions, "No. 1 is e-mail," she says. Alight.com understands that. A clothing Web shop for plus-size women, alight puts an e-mail-a-friend link on every product page. Buyers "can instantly tell a friend, `Hey, I found something'," says Norman G. Weiss, alight's chief strategic officer.
Messaging works for teenage girls, too. Teens view the Web as a new-millennium meeting place, where they can communicate instantly and freely. Monica L. Boyd signed up for a Hotmail.com account in September when a friend told her about the free e-mail service. "I don't like to spend money," says the 17-year-old Chicago student. Webmasters, take note: Monica might not spend much today, but she and her grandmother should be as important to you as her brother is.
Before it's here, it's on the Bloomberg Terminal.
LEARN MORE