A good defense seems the best offense in the current market turbulence. So investors are on the prowl for "defensive" plays--companies with earnings that aren't subject to the economy's cyclical swings. One Big Board company that has attracted such players is Smithfield Foods (SFD), the world's largest hog producer and pork processor.
Smithfield is one of the few stocks that have bucked the market's downswing--rising from 20 in early May to 29 9/16 on Nov. 1. Even so, Smithfield "still has a lot of upside potential based on its industry leadership and solid earnings growth," argues money manager Dennison Veru of Palisades Capital. He notes that the stock trades at a low price-earnings ratio of 9.6. And for a company with estimated sales next year of $5.8 billion, Smithfield has a market cap of only $1.5 billion.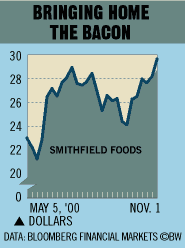 Veru says the stock will be a big mover as it reaps a windfall from a recent contract from Wal-Mart Stores to supply pre-packaged meats. "Wal-Mart will be a huge customer as the giant retailer starts selling case-ready meats in all its stores," says Veru.
Smithfield CEO Joseph Luter figures that Wal-Mart will help triple Smithfield's sales of fresh-wrapped pork, to 75 million lb., in the year ending Apr. 30, 2001, up from 23 million lb. in 2000. Smithfield sells 2.8 billion lb. of fresh pork a year, mostly in bulk to grocers who do their own cutting and packaging.
Veru, who sees Smithfield's stock hitting 40 in 12 months, expects the company to earn $3 a share in fiscal 2001 and $3.80 in fiscal 2002, up from $1.52 in 2000.