Zounds! Em.Tv Slips On Ice
Building a programming empire isn't the end of the job
Christine Tierney
It has been a miserable October for Germany's Cartoon King, EM.TV Chairman Thomas Haffa. The Neuer Markt, where EM.TV is listed, was already tumbling when, on Oct. 9, Haffa's company admitted a $14 million error in its first-half results. That prompted a dive that's funny only in the comics: EM.TV's stock plunged 32% in two days. The sell-off marked an abrupt return to reality for Haffa, 48, one of Germany's hottest entrepreneurs and a star of the Neuer Markt. At this point, his head is spinning as fast as one of his cartoon characters. "What we're experiencing is an irrational disaster," he asserts.
Cry no crocodile tears for EM.TV. Even with the recent plunge, its shares are still up an astonishing 10,000% since the company listed in 1997. But it's truth time for Haffa, nonetheless. His frenetic dealmaking over the past three years has turned EM.TV into the world's biggest purveyor of children's and family programming, with brands ranging from the Muppets to Formula One. But investors and even admirers now want to see if all the businesses will pay off. "Thomas Haffa did incredibly well bringing EM.TV public," says Thomas Middelhoff, chairman and CEO of German media giant Bertelsmann. "Now we have to see how he fulfills his vision."
GRAB BAG. Haffa's severest critics think this entrepreneur is in way over his head and that he lacks the discipline to turn his grab bag of assets into a coherent operation. Haffa did much to bring on such doubts. With his brother Florian as chief financial officer, EM.TV has suffered a string of accounting controversies since it was founded in 1989. The latest was EM.TV's admission that $13.7 million in sales at the newly acquired Jim Henson Co., creator of Sesame Street, had been mistakenly included in the first-half results. EM.TV didn't close the Henson deal until March and issued its first-half results before fully integrating Henson.
The damage was instant. Once the toast of the Neuer Markt, EM.TV fell to $31.50, less than a third of its 52-week high. "The market didn't react to the numbers but to their credibility when it hammered the stock," says Merrill Lynch & Co. analyst Bernard Tubeileh. Haffa says the revenue will show up in the third-quarter statement. And it is still expecting operating profits to triple this year, to $280 million or higher, on a 400% gain in revenues, to more than $640 million.
More to the point, Haffa said on Oct. 20 that Rick Meyer, chief financial officer at a unit of RWE, a large, well-run utility, would replace Florian Haffa, who lacked the experience to keep up with the company's fast growth, as CFO. Meyer will have his work cut out for him. For several big investors, the accounting blooper merely provided the right moment to bail out of EM.TV.
SPENDTHRIFT? Part of the trouble, analysts say, is that Thomas Haffa may have spent too much for recent acquisitions, so these aggressive purchases will weigh heavily on the stock price. The $680 million he paid for Henson was more than four times current-year sales. In addition, Haffa has paid for many of his recent acquisitions, including a 50% piece of SLEC, the holding company that controls Formula One racing, in cash and shares. Hellman & Friedman, a private equity firm in San Francisco, has already unloaded the 5.5 million EM.TV shares it received in the deal. Deutsche Morgan Grenfell Private Equity and Jim Henson's heirs hold 6.5% of EM.TV's capital. More missteps at EM.TV could prompt new selling.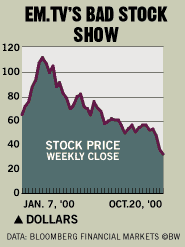 Despite the mess in the markets, Haffa's strategy hasn't changed. With digital TV lowering broadcasting costs, the number of TV channels will keep growing. And the winners will be the providers of quality content. EM.TV not only has rights to such cartoon figures as Popeye and the Flintstones but is also churning out new programs such as the preschoolers' puppet show Hoops. A Junior Web site will debut in the spring, complete with games and monitored chat rooms. Then there's the licensing and merchandising potential at Formula One. "It's the biggest sports entertainment event in the world," Haffa says. "Nothing else compares." Haffa could use a checkered flag of his own these days.
Before it's here, it's on the Bloomberg Terminal.
LEARN MORE