U.S.: The Incredible Shrinking Trade Deficit? Not Yet
Exports have a long way to grow just to keep the deficit steady
by
Is the trade deficit turning around? That hopeful question cropped up after the August data showed that the U.S. foreign trade gap shrank by more than $2 billion from July, the largest monthly improvement in four years. Equally important, the yearly growth in real merchandise exports finally caught up with the advance in imports, something that hasn't happened in three years.
The August data notwithstanding, talk of a shrinking trade deficit is premature. The best that can be said is that the rate of widening in the gap is starting to slow. The reason for a more cautious view is a case of some not-so-fuzzy math. Because imports are 35% bigger than exports, exports must grow about a third faster than imports just to hold the deficit steady.
That's a tough uphill climb for exports, and it will steepen because global growth looks set to slow in 2001. Taming the deficit will also be tricky because the current investment boom means that companies are importing more high-tech equipment than the U.S. exports (chart).
The future for trade has implications for the wider outlook. Trade has acted like a safety valve during crucial parts of this expansion. For instance, the surge in domestic demand has been met largely by a flood of imports. Without them, the U.S. economy might have faced production bottlenecks and shortages. In addition, without competition from cheap imports, U.S. producers would have enjoyed more pricing power in the 1990s, leading to a faster inflation rate for goods.
That's not to say that the trade deficit can widen interminably. At some point, investment opportunities in the rest of the world will become relatively more attractive than those in the U.S. The U.S. will then have a harder time drawing the funds needed to finance its massive and still-growing external obligations without at least some depreciation in the dollar.
THAT DAY OF RECKONING is not yet on the horizon, though. That's a good thing, because the August shrinking of the trade gap is unlikely to be repeated, especially in September, when higher oil prices are sure to swell imports. The August deficit for all goods and services fell to $29.4 billion from July's $31.7 billion, thanks to a 3.6% jump in exports. However, much of that gain was in high-tech gear, the demand for which appears to have weakened in September, especially in Europe after the euro's latest slump.
Even so, export growth has picked up considerably. Real goods exports for the first two months of the third quarter rose 13.7% from a year ago. That's almost double their pace of this time in 1999, and it equals the rapid growth in imports (chart). The recent pickup is why trade did not subtract significantly from third-quarter growth in real gross domestic product.
The export acceleration is the result of a pickup in global growth. In particular, foreign shipments of high-tech goods, including computers, peripherals, semiconductors, and telecom equipment are surging as companies around the world get more involved in information-based businesses.
Looking forward, however, the global economy is not maintaining its first-half momentum. In particular, higher energy prices are squeezing domestic demand in many of the industrial and emerging-market economies.
Currency fluctuations are also causing problems, especially in the euro zone. The increasingly weak euro is lifting inflation to uncomfortable levels, especially as it magnifies the impact of costlier imported oil. The European Central Bank has responded by raising interest rates. As a result, growth in the euro zone may slow to less than 3% in 2001, from a bit above 3% this year.
BUT IF ANOTHER SLOWDOWN in global growth will result in cooler export growth, will a U.S. soft landing curb imports as well? Yes, but to a much lesser degree than is needed to narrow the trade deficit. Remember the trade math: Import growth has to be far below that of exports just in order to keep the deficit from widening.
Imports edged up just 0.8% in August, but that looked a bit fluky. A drop in oil prices cut the value of petroleum imports even though the number of barrels shipped hit a record 310 million. And crude prices started to rise again in September and October, which should boost the total value of imports for those months. That suggests the trade deficit worsened again at least in September.
Looking further out, though, spending in the U.S. may be slowing as the combined impact of past Federal Reserve tightening, higher oil prices, and a fickle stock market temper demand. That cooldown will become more apparent in 2001. Instead of the current 5 1/2% pace for domestic spending, demand is likely to grow between 3 1/2% and 4%.
All other things being equal, that slowdown would imply that import growth will drop to between 9% and 10% in 2001, down from the current 14% clip. However, the trade math says that exports will have to grow at a rate of 12% or 13% just to hold the gap steady. Exports of goods and services are currently growing about 12% per year, and that pace is likely to slow as world growth edges back a notch.
IN ADDITION, the shift to an information-based, productivity-driven economy is creating a structural trade deficit--structural because it is not all caused by the broad ups and downs in demand but by longer-term shifts in the relative importance of technology in business investment.
Just as overseas investment in high-tech equipment is lifting U.S. exports, the current domestic investment boom is lifting high-tech imports. The U.S. trade deficit on high-tech goods has doubled in just two years. Back in the early 1990s, the U.S. enjoyed a surplus in the same category.
Investing in tech equipment--whether imported or homemade--is not a bad thing for the economy, since such spending lifts productivity and keeps inflation low. But it is important to keep in mind that this structural trade gap needs to be financed. The current level of private savings in the U.S. is nowhere near large enough to cover the huge amount of investment now going on in the country.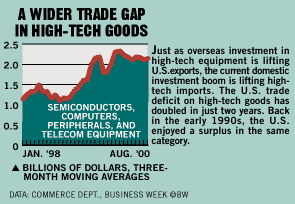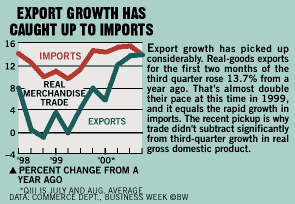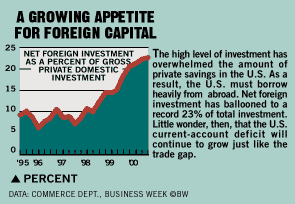 As a result, the U.S. must borrow heavily from abroad. Net foreign investment has ballooned to a record 23% of total investment (chart). Little wonder, then, that the U.S. current-account deficit will continue to grow just like the trade gap.
But for how long? That's the trade question that may well be bandied about in 2001. So far this year, foreign-capital flows have not been keeping pace with the widening in the current account as well as they did last year. If that trend were to continue into 2001, then some dollar depreciation--and some upward pressure on U.S. inflation--would likely result.
Before it's here, it's on the Bloomberg Terminal.
LEARN MORE