Suddenly, Mobile Phones Aren't Moving So Fast
Among the Big Three, only Nokia is still sizzling
by
This ought to be prime time for wireless phonemakers. The fourth quarter, anchored by the holiday shopping season, is generally a cellular bonanza; sales and profits pour in. It's curious, then, that two of the world's three cellular giants are forecasting Scrooge-like results this time of year.
Indeed, coal in the stocking might be better for Swedish telecom gear maker Ericsson. On Oct. 20, it announced that its handset business would likely suffer full-year losses of $1.59 billion, twice what analysts expected. A week earlier, Motorola Inc. in Schaumburg, Ill., warned that profit margins in its phone business would reach just 6.5% in the fourth quarter, less than the 10% it had predicted. Only Nokia Corp. has a jolly outlook. It posted 19% margins and extended its lead in global market share. "They're simply executing better than the other guys," says Paul S. Dittner, an analyst with researcher Dataquest Inc.
What gives? Partly, it's the market. Phenomenal worldwide annual growth in handsets of more than 45% has eased to about 30%. And U.S. growth will slow from a fat 50% this year to mid-30% next year. At the same time, price-conscious buyers are demanding cheaper phones.
Those problems are sorting the winners from the losers. Just two years ago, the Big Three--Nokia, Motorola, and Ericsson--held a firm grip on the global wireless market. Through June, Nokia was on top with a 27.5% share, Motorola held 15.6%, and Ericsson had 10.3%. Nokia continues to sizzle. But analysts expect Motorola and Ericsson to slip as rivals like Samsung, Alcatel, and Siemens have come from nowhere to each grab nearly 6% of the market. "The troika is no more," remarks Seamus McAteer, a senior analyst at Jupiter Research.
Lesser-known wireless players are now targeting international markets. Already, Mitsubishi Corp. is the dominant maker of Internet phones for AT&T Wireless. Samsung is the No. 1 provider of phones to Sprint PCS and is opening a new plant in Spain to increase its European share. It has achieved 10% profit margins while selling more than 5 million phones a quarter this year. Alcatel and France's little-known SAGEM lead the mid- and low-priced market in such European countries as Spain and France.
Indeed, Europe is one of the key markets where Motorola and Ericsson have lost momentum. Growth there has come from the prepaid wireless phone-card business, where users buy a phone for $100 or less and a card loaded with a certain number of minutes. Nokia, by contrast, has excelled in prepaid products along with Siemens and Matsushita Communication Industrial Co., which markets the Panasonic brand.
NEW RIVALS. Motorola says lower prices put pressure on profit margins. The same issue has hurt Ericsson. While company execs say Ericsson will remain in the handset business, which accounts for just 20% of its sales, many industry observers expect the Swedish equipment maker to exit the market because it hasn't been able to accurately predict demand and make phones quickly and profitably. "The wheels are coming off of the handset business," says Dataquest's Bryan Prohm.
As others stray, Nokia has stayed ahead by setting a new standard for handset production. It has built the industry's strongest brand and streamlined manufacturing to keep costs down.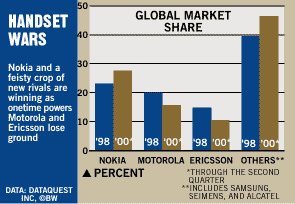 Remaining grounded in this ever-changing market is crucial. The much-anticipated third generation--due in a couple of years--could allow new rivals to leap ahead. Matsushita and Mitsubishi have proven that they can deliver nifty products in Japan that zap short messages and color images. Asian vendors will have "a leg up on competitors" when 3G networks start in other markets, Prohm says.
Even Nokia, which has been slow to market with next-generation data phones, isn't immune. Still, CEO Jorma Ollila isn't worried about the newcomers. "This is not a market where you jump in after making an announcement at a trade show," Ollila says. But clearly, the wireless phone business is no longer just a matter of offering the best holiday products.
Before it's here, it's on the Bloomberg Terminal.
LEARN MORE