Melting Pot Of Gold
Don't underestimate the spending power of minorities
Alison Stein Wellner and Kimberly Weisul
The hottest new market for your business isn't across a great ocean. It's right next door.
The combined buying power of U.S. minority groups totals $1.3 trillion, or some 20% of the country's purchasing power, according to the U.S. Commerce Dept. African American buying power alone is five times larger than the value of U.S. exports to the European Union, according to the Selig Center for Economic Growth at the University of Georgia.
And that's nothing compared with what's ahead. Thanks to continued immigration and a comparatively low birth rate among whites, minority purchasing power is on a steady march upward. The Commerce Dept. estimates that disposable income of non-whites will reach $4.3 trillion, or 32% of the total, by 2045 (chart).
This is no secret to Corporate America, which has been spending millions on sophisticated campaigns to reach minority consumers. But entrepreneurs have been less aggressive, says Selig Center Director Jeffrey M. Humphreys. "Small business is missing many opportunities."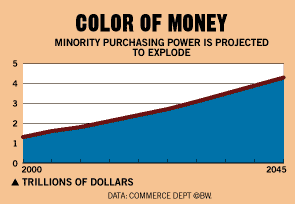 In many cases, it may be too late for small companies to grab "first mover" status. But that doesn't mean there aren't unfilled niches to target. There are 26 million foreign-born consumers in the U.S., the highest number in the nation's history, according to the Census Bureau. WorldByNET.com has built an entire business on this fact. The Houston-based Internet startup targets immigrant communities with 12 Web sites, such as IrelandByNET.com, that offer e-commerce and advertising. When the 50-employee outfit launched in 1999, deep-pocketed competitors already were well entrenched in Mexican-American and other Hispanic markets. So WorldByNET tapped into other ethnic markets. The sites now draw 150,000 page views a month--modest by most measures, but a strong showing in terms of reaching Vietnamese and Russian communities, says spokeswoman Laura Young.
It's not too late for entrepreneurs to seek out and serve other untapped niches. According to the Selig Center, Asian purchasing power will have increased 125% between 1990 and 2001, and Hispanic buying power 118%. Each of these groups is remarkably diverse in its own right, comprised of numerous distinct sub-niches. A generic marketing message will not work--making minority markets the perfect size for small, nimble companies.
Before it's here, it's on the Bloomberg Terminal.
LEARN MORE