Last Of The Red Hot Market Makers
Despite a profit dip, Knight could fetch billions
By
It's the kind of company, engaged in one of Wall Street's oldest lines of business, that some pundits predicted a year ago would be annihilated by technology. It's also a firm that earned just $20.6 million in the last quarter. Yet analysts believe market maker Knight Trading Group Inc. could fetch over $4 billion from a potential suitor.
Sound nutty? Not if you're the object of Wall Street's latest desire. Knight is the last large independent market maker left since investment banks began snapping up its rivals at increasingly rich prices. In June, Merrill Lynch forked over $915 million for Herzog Heine Geduld, which handles roughly half as many trades of Nasdaq stocks as Knight. Four months later, Goldman Sachs agreed to plunk down $7.4 billion for Spear, Leeds & Kellogg--a price estimated to be about 15 times the company's expected profits this year--partly because of its market-making division. Then, on Oct. 12, Deutsche Bank offered a rich 16 times adjusted earnings for National Discount Brokers Group.
NOT FOR SALE? The bottom line for Knight? Although it suffered from a weak third quarter with earnings down nearly 30% due to a difficult market environment over the summer and outlays on aggressive international expansion, the consensus of Wall Street analysts is that it will earn about $260 million in 2000. If they're right, a deal at 18 times those earnings would give Knight more than a $4 billion price tag. Knight's chief executive, Kenneth D. Pasternak, insists "the company is not for sale." But with would-be matchmakers talking up possible deals with the likes of Citigroup (talk on which Citi declines comment), Pasternak adds: "That does not preclude consideration of a buyout. At a price, everything in the world is for sale."
Wall Street's willingness to pay up shows that market makers still play a vital role. Investment banks have found that electronic communication networks (ECNs) are effective only at matching buy and sell orders in highly active stocks such as Dell Computer Corp. Humans still need to play a significant role in trading less-liquid shares: Traditional market makers like Knight keep their own inventories of shares electronically to ensure that there is always a buyer or seller for less actively traded shares. "The endgame is a marriage between the New Economy ECNs and the Old Economy market-making services," says Henry McVey, securities industry analyst at Morgan Stanley Dean Witter.
Pasternak is in a strong position to negotiate. "Knight can continue on its own," says Merrill Lynch analyst Sean Chin. Pasternak is investing $40 million in another, larger trading room in Jersey City, N.J., while pressing ahead with plans to expand overseas operations in London and Tokyo. He expects revenues to rise 43%, to $1.4 billion, this year and believes Knight can still keep increasing earnings by 25% a year. That growth wouldn't be as dramatic as the company's 60% profit jump in 1999. But more retail investors are flocking to the stock market--even during a volatile year with many Nasdaq declines.
Knight is riding that wave. It got its start making markets for such online brokers as E*Trade Group, Ameritrade, and TD Waterhouse, which still account for one-third of Knight's business. But now such full-service brokers as Salomon Smith Barney and Morgan Stanley also use Knight to execute some orders, which has helped triple Knight's volume in the past two years, to an average of 575,000 trades a day. "There are very few firms now that don't trade something with us," Pasternak says.
CRUSADER. Pasternak is a proven crusader. Indeed, he keeps suits of armor in his office and, appropriately for a Knight, owns a sword. A year ago Pasternak ignored doomsayers predicting ECNs would force Nasdaq market makers out of business. Instead, he expanded Knight's trading room, which handles 18,500 stocks on Nasdaq and the New York and American stock exchanges.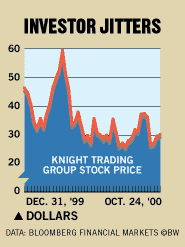 Now, Pasternak's mettle is being tested again. Knight remains Nasdaq's No. 1 market maker, but its share of Nasdaq trades has slipped, to 15.7% from 17% in 1999. Knight's stock price has also fallen 51% since it hit a high of $59 a share on Mar. 24, vs. a 7% drop in the Dow Jones industrial average. There's another threat on the horizon: Investment banks newly armed with market makers could start to steal away more of Knight's orders.
But Pasternak bets they'll be preoccupied. "If you're vertically integrated, you get a lot of bad habits because you own your customers," says Pasternak. "We're paranoid and run fast." Pasternak will not lay down his sword easily.
Before it's here, it's on the Bloomberg Terminal.
LEARN MORE