Intel's New Horizons Could Be In Asia
by
Who's afraid of Intel? Almost everyone on the Street is. A massive sell-off by institutional investors since August has slashed $272 billion, or 52%, from the company's market value, as the stock plunged from summer's 75 to 35 on Oct. 11. It has since rallied feebly, to 41. "The sky is not falling, but next year looks tough," says Joseph Osha of Merrill Lynch.
But some value players, who regard Intel's low price as a big fire sale, have scooped up shares, which they say are bound to shine again. One such investor is Stephen Leeb, editor of the Personal Finance market letter, who sees Asia as a big source of growth for Intel in the next few years. Leeb notes that in the past two years, orders from Asia (excluding Japan) have grown more than twice as fast as those from the U.S. and Europe. "Asian demand has grown to 20% of Intel's total revenues and should be even much bigger next year," says Leeb.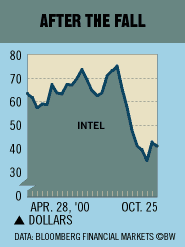 Even during the Asian flu two years ago, Intel's sales in Asia grew by 15%, recalls Leeb. Asia is sure to boost Intel's prospects in its core business, argues Leeb. And Intel's forays into nonchip businesses will help greatly, he adds. Intel has established strong footholds in businesses that are growing faster than its core business, including flash memories and products for telecom equipment.
With Intel's forward price-earnings ratio down to 25, "the stock is a steal," says Leeb. Over the long term, "we expect Intel to expand earnings at 15% a year, if not better," says Leeb. He thinks Intel will rebound to 70 within 18 months.
Before it's here, it's on the Bloomberg Terminal.
LEARN MORE