Higher Peaks May Loom For Vertex
By
Know about "supply chain"? It is an emerging industry the Street is starting to take a shine to. Supply chain execution, says Scott Wright of H.C. Wainwright, uses the Web and wireless technology to improve efficiency and worker productivity in managing customers, inventories, warehousing, and route accounting.
That's why Wright has a strong- buy rating on Vertex Interactive (VETX), a tiny player in supply-chain solutions. Its customers include IBM, Merck, Verizon, Motorola, and Dell. At Merck, Vertex automated four distribution centers, resulting in cutting the time to fill orders from 24 hours to 4 hours, according to co-CEO Nic Toms.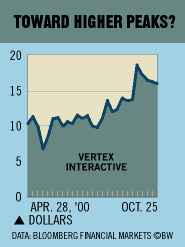 "We have positioned Vertex to be a strong player against larger companies," says Toms, "such as i2 Technologies," trading at 174 a share, with a market cap of $34.6 billion. By contrast, Vertex' market cap is $361 million. The SCE market is estimated by AMR Research to grow from $4.5 billion in 1999 to $18 billion by 2003.
Industry sources say Vertex will get a $6 million supply-chain contract from IBM, which could grow to a $20 million pact in three years. Vertex will provide a supply-chain network to 6,000 IBM customer locations nationwide. Wright sees sales of $47 million in fiscal 2000, and $101 million in 2001, when he expects Vertex to move into the black. He see the stock, now at 15 3/4, rising to 30 in 12 months.
Before it's here, it's on the Bloomberg Terminal.
LEARN MORE