Germany: The Euro Is Slowing Growth Which Hurts The Euro
by
The wise men have spoken, and they're not very optimistic. On Oct. 24, the German government's six economic advisers, the so-called wise men, released their forecast for the economy in 2001. They expect German real gross domestic product to grow 2.7%, down from 3% this year. And since real GDP has grown at a 3.9% annual rate in the first half, the forecast implies a sharp slowdown in the third and fourth quarters. The magi also forecast that inflation in 2001 will fall below 2%, from about 2.5% in 2000.
In 2001, the report said, "the retarding effects of higher oil prices will gradually diminish, but at the same time, the dampening effects from slower external demand and tighter monetary policy will be more and more felt." Already, the European Central Bank's seven hikes in interest rates are slowing domestic demand and dimming business prospects. German business confidence in September fell for the fourth straight month (chart). That followed a sharp drop in the purchasing managers' index.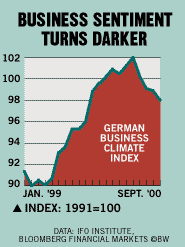 Although the German job market is picking up--the unemployment rate hit a five-year low of 9.45% in September--household spending is being held back as rising import prices, thanks to the weak euro and higher energy costs, cut into buying power. Consumer prices nationally increased 2.5% in the year ended in August, a 5 1/2-year high. Given the latest round of weakness in the euro, German inflation is likely to rise higher in coming months.
The ECB has tried to turn the euro around by intervening in the currency markets. So far, though, the action hasn't worked: The euro remained at near-record lows in mid-October. Analysts have said that unless the ECB follows up intervention with higher rates, the euro will remain weak. Higher rates, though, would curb German growth even further.
Of course, the euro would rise if growth prospects in the euro zone were stronger than those in the U.S. But with the zone's largest economy slowing down, that simply isn't the case.
Before it's here, it's on the Bloomberg Terminal.
LEARN MORE