Expectations In Mexico Are High And That's Not Good
With Mexico in peril of overheating, investors should be wary
Geri Smith
As a business consultant, Alberto Calva advises Mexican companies on how to take advantage of the country's economic boom. Yet with Mexico on the verge of a historic changing of the political guard, Calva is counseling his clients to be cautious, just in case the nation stumbles into one of the crises that has marred every presidential transition for the past 25 years. "I'm not saying that there will be an economic crisis," says the head of Acus Consultores. "But it's a possibility that can never be completely discarded."
Most analysts believe that Mexico stands a good chance of avoiding a meltdown when President Ernesto Zedillo hands over power to Vicente Fox on Dec. 1. Still, some are fretting that the feel-good factor, generated by Mexico's robust economy and the end of the Institutional Revolutionary Party's 71-year-old hold on the presidency, could blind investors to some of the risks. "There's an enormous amount of enthusiasm about Mexico, and expectations are now very high--and that gives me a lot of concern," says Walter Molano, head of research at BCP Securities Inc. in Greenwich, Conn.
Why worry? Well, for starters, Fox will be taking over the reins of an economy that is showing signs of overheating. Growth in gross domestic product was a blistering 7% in the first eight months of 2000 compared with the same period last year. True, inflation remains subdued and is expected to end the year at 8.8%, its lowest level in six years. But a strong peso (it has appreciated 23% in real terms against the dollar in the past two years), is starting to hurt some exporters. And consumer imports jumped 33.6% from January to August. If that trend holds, Mexico's current-account deficit could balloon to 4.1% of GDP by the end of 2001--much less than what prompted the peso crash of 1994, but still worrisome.
DEAF EARS. To cool demand, Mexico's central bank has tightened the money supply five times this year. Banco de Mexico chief Guillermo Ortiz has implored the government to do its part: "We need to tighten fiscal policy, and the sooner it's done, the better." But his pleas seem to be falling on deaf ears. The Zedillo administration is still on course to achieve its goal of a fiscal deficit of less than 1% of GDP. Yet analysts point out that if the government and Congress had exercised greater restraint, Mexico could well have logged in a surplus on the back of this year's oil windfall. "They could have been more prudent and trimmed their sails at the first sign of overheating," says economist Manuel Suarez Mier, of the Reseach Center for Development in Mexico City.
That's why Fox is already under market pressure to prove himself a fiscal conservative. His team of economic advisers has set prudent targets for next year: slower growth of between 4% and 4.5% and inflation of 7% or less. The incoming administration has also pledged to cut the fiscal deficit to just 0.5% of GDP, whatever happens to oil prices. "I don't see any reason at all for this economy to have any major problems for the next year," says Fox's chief economic adviser, Luis Ernesto Derbez.
LEARNING CURVE. Those worthy goals, however, will come face-to-face with political reality on Dec. 2, when Fox must present Congress with his budget for next year. The incoming President, whose National Action Party does not enjoy a majority in either house, will face a battle in getting opposition legislators to endorse some $3.5 billion in spending cuts. "Fox's challenge is to win approval of a tight budget in times of abundance," says Gray Newman, chief Latin America economist for Morgan Stanley Dean Witter in New York.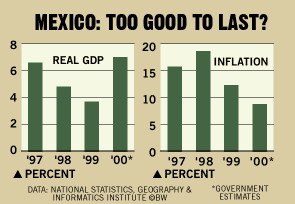 Fox is expected to announce his Cabinet in mid-November. The lineup will likely include some second-tier officials from the current administration as well as some leading businessmen. As the new government moves up the learning curve, there could be some peso volatility. Although he's bullish on Mexico's long-term outlook, Ernest "Chip" Brown, head of fixed-income and economic research for Latin America for Santander Investments Securities Inc. in New York, says that he is giving his clients the following advice: "If you want to avoid choppiness over the next several months, there are probably places you should be other than Mexico." After all, a peso surprise is always of the nastiest kind.
Before it's here, it's on the Bloomberg Terminal.
LEARN MORE