Equities: Up From The Bottom?
After a wild October, strategists predict smoother sailing
Marcia Vickers
Playing the October stock market has become a matter of trick or treat. It's a bitter trick if you happen to buy before one of the market's steep drops, and a sweet treat if you're lucky enough to buy just after the sell-off.
For those in the former camp, strategists say, the worst is likely over. All the same, they expect the market will still have some volatile ups and downs before ending the year flat to slightly higher. And even if returns improve in 2001, it's almost certain that, in the longer term, investors will face much more moderate annual returns than the 20% rates they became used to in the late '90s. "Slower corporate profit growth and limited room for normal [price-earnings] expansion mean fewer stocks are likely to generate enormous price gains," says Edward M. Kerschner, PaineWebber Inc.'s chief investment strategist.
Meanwhile, the Nasdaq Composite Index, the Dow Jones Industrial average, and the Standard & Poor's 500-stock index have all been spooked by steep declines in October, only to stage a comeback of sorts. By Oct. 12, the Nasdaq had fallen 14% and the S&P 7% to their year lows. And on Oct. 18, the Dow dropped to its lowest levels since March. On Oct. 25, the Nasdaq plunged 5.6%--the biggest drop since May. Some remain unfazed. "Most of the bad news is out of the way or already priced into the market," says Peter Canelo, U.S. equity strategist at Morgan Stanley Dean Witter.
That bad news came in a slew of warnings that third-quarter earnings would fall short of market expectations. However, the so-called confession season is mostly over. And now, despite shortfalls from Nortel Networks, JDS Uniphase, and Ciena, many companies are reporting earnings that equal or better forecasts. Meanwhile, mutual-fund managers who needed to sell stocks for tax reasons have already done so. What's more, the unluckiest month in the stock market is coming to an end. "October has historically been a common month for bottoms, and there's usually an upward bias between election day and yearend," says Richard McCabe, chief market analyst at Merrill Lynch & Co.
Indeed, many strategists are calling the October drop a market bottom. "The economy looks as if it's in for a soft landing, oil prices have peaked and will drift downward, and the euro remains weak," says Charles H. Blood Jr. head of financial markets strategy at Brown Brothers Harriman & Co. Wall Street believes the Federal Reserve will most likely start to lower interest rates after the election or at the beginning of next year. Blood is looking for a cut of a half to three-quarters of a percentage point.
So what's the best strategy for now? Wise investors remain cautiously optimistic. And while some are merely sitting it out, others, like David A. Katz of Matrix Asset Advisors, a value manager that is up 7.5% so far this year, are being opportunistic. Katz is pouncing on beaten-down stocks such as medical-products maker Boston Scientific Corp. He also likes regional and national banks such as Wachovia and First Union, and telecoms such as Centurytel Inc. "We're feeling pretty good--in lots of areas, you can buy good businesses at good prices," he says.
Valuations do look more attractive. Based on expected earnings in the year ahead, the price-earnings ratio for the S&P 500 is 21.4--far from its January high of 25.3 and the lowest level since October, 1998, when the index was trading 20.7 times forward earnings, according to I/B/E/S, the earnings research firm. Goldman, Sachs & Co.'s Abby Joseph Cohen and PaineWebber's Kerschner maintain that the S&P 500 is undervalued by 15% and 12%, respectively. "Stock prices will likely benefit before yearend from the increasing availability of cash in many institutional portfolios, including mutual funds," Cohen wrote in a recent report. But she, along with many other strategists, expects only moderate profit growth in 2001 because of the slowing economy, which will certainly put the brakes on the stock market. Since the beginning of October, projected S&P 500 earnings growth for the first quarter of 2001 has fallen from 14.2% to 12%, a bigger drop than usual, according to First Call Corp., the earnings-research firm. "Large segments of the market have proven more vulnerable to an economic slowdown than originally thought," says Brown Brothers' Blood.
INVESTOR CONFUSION. That may be especially true in technology stocks. Since Oct. 1, fourth-quarter earnings estimates for tech stocks have dropped by a third--to 19% year-over-year growth from 29%, according to First Call. "This tech earnings revision is the steepest drop I can ever remember," says Charles Hill, First Call's director of research. "We know there's going to be some kind of problem in tech. We don't know if it's just temporary or a longer term one due to the economic slowdown." One company that added to the tumble was Lucent Technologies Inc. On Oct. 23 it reported that fourth-quarter profits fell 22%, and slashed its sales and profit outlook for the first quarter of next year.
The new Securities & Exchange Commission rule that requires companies to provide full disclosure to both investors and analysts hasn't helped matters. In fact, it may have succeeded only in confusing investors as companies put out more information than before. In the fourth quarter so far, there have been 75 negative pre-announcements, vs. only 13 at the same point in the third quarter, according to First Call.
But slowing tech-earnings growth is worrying investors the most. Some blame pent-up demand for technology that occurred after the pre-Y2K slowdown, then the subsequent trailing off of that demand. "The companies have been telling us that revenue growth would slow, but analysts were ignoring the inevitable slowdown," says Canelo, who recommends avoiding software, personal-computer, and semiconductor companies right now. Despite their recent downturn, he remains bullish long-term on infrastructure companies, with the idea that the network has to be built. "Those stocks have never gotten back to where they were in May," he says.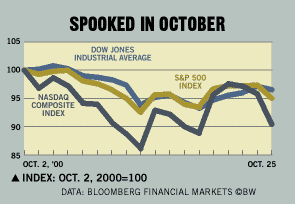 Some sectors are looking up in terms of earnings. Energy earnings for the third quarter are poised to double over last year, and are up 65% for the fourth quarter. Health-care earnings are predicted to be up around 17% in both the third and fourth quarters, while those for transports are expected be up 17% and 21% in the third and fourth quarters, respectively.
Even so, earnings of most companies have begun to take a hit in the last two quarters. "No matter how you shake it, consumers and companies are starting to tighten the purse a bit," says Hill. And although a leaner environment may ultimately benefit the market, it may produce a mixed bag of tricks until yearend.
Before it's here, it's on the Bloomberg Terminal.
LEARN MORE