Commentary: A Fresh Face Could Do Wonders For Gillette
William Symonds
Warren E. Buffett is one of the most patient investors. But even he has had enough of the alarming decline of Gillette Co. On Oct. 19, Buffett and other board members asked CEO Michael C. Hawley to resign and installed 32-year company veteran Edward F. DeGraan as acting CEO. Now the question is where the board will find a permanent chief. Buffett is signaling a strong desire for an outsider.
This would be a radical step for Gillette, which has one of Corporate America's most insular cultures. But that very culture--though it provided the basis of Gillette's success for years--now bears as much blame for the company's troubles as any one individual. After two years of stagnant sales, repeatedly missed earnings forecasts, and a stock that has been cut in half, investors have lost confidence that the executives long steeped in Gillette's way of doing business will be able to bring needed change. "What Gillette needs now is some shaking up," argues Harvard Business School professor Rosabeth Moss Kanter.
For years, Boston-based Gillette has been led by executives like Hawley, who have spent decades working their way up the ladder. Gillette has not looked outside for a top operating executive since 1973, when Vincent Ziegler, then chairman, brought in a marketing maven from Hunt-Wesson Foods as his heir apparent. But that experiment failed in just over a year.
Those who've risen to the top have invariably succeeded because they are masters at the growth formula that served Gillette so well for decades. Honed in the shaving market, which the company has dominated for nearly a century, the formula relies on the enormous engineering expertise to develop superior products for which Gillette charges a premium.
Problem is, while this formula still works in the blade business, "it clearly isn't working on some of their other categories," says Don Stuart, partner at marketing consultants Cannondale Associates. Exhibit A is Duracell, where Gillette rolled out a premium-priced battery, but still lost market share and saw margins fall.
The even deeper problem is that it's virtually the only way Gillette executives know how to do business. This cultural mind-set has made it difficult for insiders to find new solutions. "They need a large infusion of fresh blood," says Stuart.
The key challenge for the next CEO is to invent "a next-generation business design that will build a foundation for another 10 years of growth," says Adrian Slywotzky, a business strategy expert at Mercer Management Consulting. And that will likely require "an outsider who can bring in fresh insights, especially in marketing," argues Gary Stibel, founder and principal of the New England Consulting Group.
SAME AGAIN? That creates a huge hurdle for DeGraan, who was previously president. Buffett calls him a "terrific candidate" to win the CEO job permanently. But DeGraan is cut from the same cloth as his predecessors. In Gillette's core shaving business, he oversaw much of the development of two blockbuster blades: Sensor and Mach3. But he bears much of the responsibility for the Duracell disappointments. Morever, he says his job now is simply to "complete and accelerate the strategies [that were] agreed to" under Hawley.
No wonder investors are clamoring for a fresh face. Removing Hawley "was a great step forward," says Henry Asher, president of Northstar Group, a New York investment firm. But now, he adds, "they need someone from outside the company."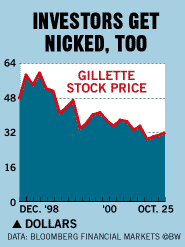 To be sure, parachuting in a high-profile outsider doesn't always work. Just look at C. Michael Armstrong's troubles at AT&T and George M.C. Fisher's rocky reign at Eastman Kodak Co. Still, Stibel predicts there will be outstanding candidates eager to become a hero at Gillette.
Even DeGraan admits that an outsider "would probably be accepted" at Gillette during these troubled times. The reason: "A lot of our employees own a lot of Gillette shares," he says. "I get a lot of e-mails from employees," he adds. The main message: "Do something about the stock price." For now, the best way to do that may be to go outside the company for the next CEO.
Before it's here, it's on the Bloomberg Terminal.
LEARN MORE