As Machu Picchu Gets Trashed...A Town Fights To Save Its Heritage
Jane Holligan
Standing in the Inca citadel of Machu Picchu, guide Adriel Quispe faces a stone that resembles a scaled-down cruise ship. The sacred Intiwatana, or "hitching post for the sun," is carved out of a single block of granite with a funnel shape on top. The shadows it casts probably marked the seasons for the Incas. Quispe tells the rapt crowd of tourists: "This stone is beyond price."
Well, sort of. In September, for a $200 fee, a camera crew filmed an ad there, propping a beer bottle and glass on the stone. Their six-meter-long crane gave way, and a cameraman fell on the Intiwatana. A corner of the monument snapped off, marring its perfect lines. "It is as though they stole a part of the Incas' knowledge," says Quispe.
The incident brought to a head growing concern about how mismanagement and the race for dollars threaten to damage the mountain citadel and the fragile, 32,000-hectare natural reserve around it. Machu Picchu, of course, is a magnet for tourists, but its very success is becoming a threat. Up to 2,500 tramping tourists a day and a throng of minibuses are taking a toll. "The situation is becoming critical," says British tour guide Peter Frost.
It may get worse fast. President Alberto Fujimori has announced a drive to raise the number of tourists visiting Peru from fewer than a million annually to 2.5 million by 2005. The burgeoning tourist trade at Machu Picchu has spurred chaotic growth in the nearest town of Aguas Calientes, where some three tons of garbage is burned or thrown in the river daily. The nature preserve is under strain, too, with its 372 bird species, dozens of rare orchids, and spectacled bears. Last year, some 76,000 tourists hiked through it on the Inca Trail. The paucity of proper campsites and waste control has left at least 23 hidden garbage pits along the way, and the trail is eroding in parts.
Although Peru is poor, it doesn't lack resources to protect Machu Picchu. On $10-a-head entrance fees alone, the citadel brings in more than $3 million a year, a quarter of the National Culture Institute's budget. Former Institute Director Luis Repetto--he was replaced in October--claims that 30% of these revenues stay in the Cuzco area. But whether they're spent well is another question. "Basically, it's a management problem," says Finnish Ambassador Mikko Phyhala. In 1996, Finland offered $6 million for the area's conservation under a debt-swap agreement. Less than a third has been spent, though the program was due for completion this year. Agencies with overlapping responsibilities tend to pass the buck on conservation.
RIGHT BALANCE? Phyhala, however, adds that he's "more hopeful now." That's because last month the government bolstered the authority of a year-old management unit for the reserve. This January, the fee for hiking the Inca Trail will be tripled, to $50, and stricter rules for garbage disposal imposed. Repetto says more sensitive rules for commercial use will be drawn up to find the right balance between tourist demand and site protection. "We are still in time to turn around the situation," says Edwin Florez, president of the Cuzco Tourism Agencies Assn. But time is running out.
Ollantaytambo in the Sacred Valley between Cuzco and Machu Picchu calls itself a "living" Inca town, one of the very few left. It is surrounded by agricultural terraces that are still traditionally irrigated and farmed. Mayor Benicio Rios says he was astonished to discover early this year that the state cultural institute had "given the green light" to construction of a major road that would destroy 124 original Inca terraces. Rios sent out an open letter on the Internet denouncing the plans. "If we had not protested, the project would have been started by now," he claims.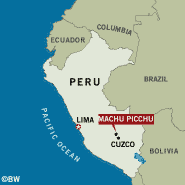 Since the protest, plans to build the road have been on "standby," says Rios, partly because of Peru's political crisis. Rios insists he's not opposed to the road but wants Lima to consider alternative routes that may be more expensive. "After all, no amount of money can ever buy new Inca terraces," Rios says. The Ollantaytambo area is dotted with ruin sites, but dozens are abandoned and unprotected from land grabs and grave robbers. These are among thousands of archaeological treasures all over Peru, too many for the Cultural Institute to protect. Former Director Repetto says it does what it can, "but the only real solution is to get the local community involved in protecting their own heritage." Ollantaytambo is showing how that may work.
Before it's here, it's on the Bloomberg Terminal.
LEARN MORE