A Nation Of Entrepreneurs?
Jose Luis Alonso
Just a few months ago, my sister Celia was thinking of leaving behind her small town outside Havana and emigrating to Miami. She wouldn't have been alone: My mother emigrated seven years ago, and one of my two other sisters followed her. In the end, Celia did leave San Antonio de los Banos, the farming town where she had grown up. But Celia, her husband, and their two children went only as far as the Cuban capital.
It might seem an odd choice, especially to Americans. But Celia had her reasons. Our sister Carmen has struggled to find work in Miami's competitive job market. And Celia wanted to take advantage of new Cuban laws allowing private businesses. When she moved into Villa Linda, her home here, she didn't buy it--that's illegal in Cuba. She traded for it: her apartment in San Antonio for a large Spanish-style house with an apartment at the back. Now she rents out the apartment to foreign tourists for $50 a night.
It's the life my sister, a trained nurse, wanted for herself and her family. "Although I love my family living in the U.S., I didn't want to leave my country and start all over again," Celia tells me as we talk on her veranda. "And by renting to tourists, I can earn dollars and provide for my family."
I live in New York. I made the journey Celia declined seven years ago, when I was 32. And I hadn't seen Celia for many months before my visit in September. Watching her as she sat surrounded by tropical plants and birds, I began to see this quintessentially Cuban question--to stay or to leave--a little differently. "In Miami, I would be struggling with a minimum-wage job, fighting to learn a new language and adapt to a different culture," Celia tells me. "Here I can now own my own business. And it's like traveling. In the last two months, I've learned a little Italian, a little French--and a lot about the rest of the world."
Wandering along the nearby Malecon, Havana's oceanfront boulevard, seeing the old buildings with their pastel paint peeling and the parade of 1950s American cars, one always feels as if on a trip back in time. Cuba seems to me more desperate and decrepit than ever. But a closer look reveals that change--even a certain kind of progress--is sweeping the island. Private business, the possession of dollars, and interaction with tourists--all illegal for decades--are now acceptable. And that is making all the difference. Having a private business in Cuba today is not merely a tempting possibility; it's a life-preserver, a key to survival.
Everyone here, it seems, has something to sell. In the grimmer manifestations of this new phenomenon, there are the aggressive peddlers of fake puros (Havana cigars) preying on tourists. Far worse are the guys offering their sisters or girlfriends. But at the other end of the scale, many Cubans have left state jobs to open businesses that attract dollars--the currency of choice here since the doors to private business, tourists, and foreign investment opened. My sister is a perfect example. So is Ignacio Rodriguez, a doctor who moved in with a friend so he could rent out his apartment to foreign visitors. "We felt Cubans were making progress with these reforms," Rodriguez tells me over coffee. "We didn't feel so globally isolated anymore."
Although the rules were loosened only in 1995, private businesses are everywhere in Cuba these days. And a huge network of individual contacts and connections promotes these tiny monuments to human enterprise. The Cubans call this boca-a-boca, word of mouth, and this is how travelers learn of rooms to rent or gardens and garages converted into paladares, family-owned restaurants with typical Cuban dishes at modest prices. Innovative young Cubans are turning ordinary bicycles into quaint "bici-taxis" by adding cushioned seats and a canopy; some also blast the latest salsa tunes.
The government has never been especially supportive of all this. In the past few months, however, tolerance has changed to something else. Tourism, one of the nation's most important sources of foreign exchange, is in a tailspin--the result of troubled global markets, the decline of the euro, and the hurricane season. So a new kind of competition has intensified, between the state and individual enterprise. Here and there, the government is tightening the screws a bit. As of next February, bici-taxis will no longer be allowed to carry tourists. That's likely to end this form of transportation. "With my bici-taxi, I gave up my career, but I found food for my family," says Ricardo Cordoba, a former veterinarian who plies his bici-taxi in central Havana. "After February, I don't know what I will do or how we will survive."
It's a pity for foreigners, too. Many of them prefer individual businesses to the strictures (and higher prices) of state-supported hotels, restaurants, and taxi services. I sometimes eat at a popular paladar, La Cocina de Lilliam, in Havana's upscale Miramar district. And whom do I find there? Diplomats, tourists, and other business owners.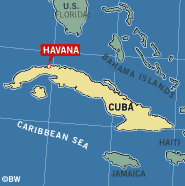 NO LOBSTER. It's not easy for Lilliam and Luis Ulloa, her husband and business partner. "I often have to go outside Havana to find better prices," she explains. "I also have to invent recipes with the ingredients I can find and afford." The state makes things difficult, too. Licenses allow for a maximum of 12 tables, only family members may work in the business, and popular dishes such as lobster and steak are off limits. The bottom line, as Lilliam puts it, is an uncertain future. Myra Llanes, an electrical engineer, is now part of an artists' co-op in Old Havana. She sells her own work and reps for other artists. "My role as an agent is new," she says, "and the state has not yet decided whether agents can operate private businesses."
Cuba is adapting to new capitalist opportunities. The government--to the surprise of many--is competing with its own citizens. But it's still hard to see forward, as Celia reminds me. "I hope the business will continue to grow," she says on her veranda. "But in Cuba, nobody knows what's going to happen five years from now---or even tomorrow."
Before it's here, it's on the Bloomberg Terminal.
LEARN MORE