U.S.: So Far, The Economy Is Riding Out A Bumpy October
Risks remain, but growth is stronger now than it was three months ago
by
All of a sudden, the U.S. economy is dealing with some October surprises. Unexpected worries about the Mideast, oil uncertainties, and another round of stock market weakness flared up just as baseball headed toward the World Series. Luckily, the economy's risks have subsided somewhat, especially regarding oil, although stock market weakness remains a key threat.
The main source of the market's jitters: Profits are not living up to investors' overly optimistic expectations. However, the economy's basics are still solid and likely to stay that way. Strong September retail sales, plus healthy weekly store surveys through mid-October, bode well for fourth-quarter growth. Housing starts edged up 0.3% in September, and builders' optimism rose again in October. Also, outside of autos, business inventories are not out of line with sales, which bolsters the outlook for production. Indeed, factory output posted progressively stronger growth during the summer months.
Another basic plus--and it's a biggie--is continued low inflation. But the latest results there are not all positive (chart). The continued upcreep in core inflation is also weighing on the markets. Goods inflation, except for energy, is as benign as ever, especially since the latest round of strength in the dollar is squeezing nonoil import prices. However, service inflation is clearly accelerating broadly despite gains in productivity and declining unit labor costs.
The bottom line: Economic growth looks stronger now than it did three months ago. To be sure, the pace is slowing, but from a red-hot 6% to something closer to 4%. The data hardly make a case that the Federal Reserve's next move will be to cut interest rates, as many areas of Wall Street have begun to expect--or maybe wish for.
THE FED WILL NOT CUT RATES unless market weakness threatens the expansion. So far, the drop in equities over the past month has not been severe enough to suddenly knock the economy off stride. Of course, market risks remain, and the key question is profits. But the problem is not that profits are not good; they just aren't good enough to meet investors expectations. And clearing the bar may only get tougher as demand eases back a notch.
In fact, recent market weakness could sap some fourth-quarter buying as well. Since 1996, quarterly changes in stock prices have explained about one-fifth of the ups and downs in the growth rate of real consumer spending, a relationship that did not exist prior to 1996. In 2000, for example, the correlation held firmly for the first-quarter surge in outlays, the second quarter's slowdown, and the third quarter's rebound.
But for now, consumers have headed back to the mall. September retail sales grew 0.9% from August, the best showing in seven months. Sales for the entire quarter grew at an annual rate of 6% from the second quarter, when they managed only a 2% advance. The September gain was broadly based. Sales of autos, furniture, and appliances rose strongly, as did restaurant receipts. A big increase in gas station sales reflected higher prices, but that added only 0.1% to the month's overall gain.
Given strong job markets, households can continue to spend liberally in the fourth quarter if they choose. And in fact, through the week ended Oct. 14, which includes that week's wild equity ride, LJR Redbook Research showed retail buying up a solid 0.8% from September. However, because of the October turmoil on Wall Street and in hot spots around the world, it will be important to monitor confidence and the weekly retail surveys for any signs that consumers might be taking cover.
CONSUMERS AREN'T THE ONLY ONES rebounding. The industrial sector, beleaguered by Fed rate hikes, higher inventories, and a stronger dollar, is showing a few signs of improvement. September production in manufacturing rose 0.3% from August, when it increased 0.2% after no growth in July. The data are consistent with other evidence of slower growth, but they overstate the amount of slowing.
The Ford/Firestone problems and Detroit's generally heavy inventories account for a lot of the quarter's softness (chart). Overall factory production grew at only a 3.2% annual rate in the third quarter, less than half the second quarter's 7.8% pace. However, excluding motor vehicles and parts, the output slowdown was less dramatic, from 7.8% to 4.9%. Detroit's production dropped at an annual rate of 20.1% last quarter, the weakest quarterly showing in 4 1/2 years.
Auto dealers were struggling with excessive inventories in August. Business inventories held by manufacturers, wholesalers, and retailers increased 0.7% in the month, faster than July's 0.4% rise. But excluding a 2.8% jump in retail auto stocks, August inventories increased only 0.5%. Excluding cars, the ratio of business inventories to sales is about where it has been all year (chart). Progressively better vehicle sales through the third quarter, along with production cutbacks, clear the way for a pickup in auto output in coming months.
High-tech equipment continues to be industrial production's driver. In the past year, manufacturing output has grown 6.2%. But take out the 52.8% growth in production of computers, peripherals, semiconductors, and communications equipment, and the other 90% of factory output grew only 1%. Nontech output last quarter fell at a 2% annual rate from the second quarter--the weakest quarter since the last recession.
DESPITE BROAD SIGNS of a slower but still sturdy economy, the overall inflation outlook may not be as benign as the price indexes suggest. And energy is not the culprit. For wholesale goods, higher fuel costs pushed up the September producer price index by 0.9% from August, but the core index, excluding energy and food, rose only 0.3%. Some of that increase in the core index reflected a temporary seasonal quirk in car prices. Energy also pushed up the September consumer price index, by 0.5%, while the core index rose 0.3%.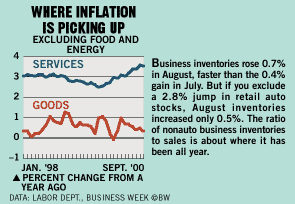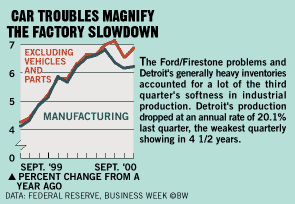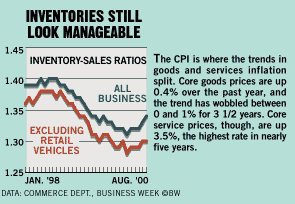 However, the CPI is where the trends in goods and services inflation split. Core goods prices are up 0.4% over the past year, and the trend has wobbled between zero and 1% for 3 1/2 years. Core service prices, though, are up 3.5%, and the yearly rate has risen by a full percentage point in just the past year to the highest level in nearly five years.
It may well be that productivity gains--and the related squeeze on unit labor costs--are far more concentrated in goods production, which is dominated by rapid growth in high-tech output, and much less concentrated in service output. If so, the outlook for inflation in the coming year may not be as bright as most analysts now expect. That means Wall Street could be facing a double whammy for 2001: a less vibrant economy and an upward creep in inflation.
Before it's here, it's on the Bloomberg Terminal.
LEARN MORE