The Internet Flier Who Fell To Earth
Dot-com doldrums have humbled Richard Li's portfolio
by
Lawrence B. Brilliant, the chairman and CEO of SoftNet Systems Inc., had big hopes for the alliance he cemented with his major shareholder, Hong Kong tycoon Richard Li. The founder of Pacific Century CyberWorks, Li paid $129 million for 23% of the San Francisco broadband Internet service provider in 1999. At the time, PCCW was on a tear: It was putting millions into Internet companies in the U.S. and Asia, creating a portfolio designed to turn PCCW into the Hong Kong equivalent of Japan's Softbank Corp.
But since then, SoftNet's fortunes--along with those of most of the other companies in which PCCW invested--have plummeted. And that's a problem for Li: Dot-com deals had helped inflate PCCW's stock price and allowed Li to finance high-profile deals, including the takeover of Cable & Wireless HKT. Gains from these investments have provided PCCW with its only profits; at a time when its hyped Network of the World broadband service had not even started, PCCW last year earned $44.5 million, mostly from Internet investments.
Now, with the lackluster performance of this portfolio just the latest in a series of setbacks for PCCW, investors are questioning the company's fundamentals--and whether it has changed from a dynamic Internet player into a stodgy telecom provider whose major business, international long-distance, is steadily shrinking in the face of competition. With PCCW now concentrating on infrastructure and content businesses, its venture-capital arm "is obviously de-emphasized," says Hong Kong-based Credit Suisse First Boston analyst Jay Chang.
"DIFFERENT COMPANY." PCCW denies that its strategy is faltering. HKT "is anything but a broken-down telecom company," insists PCCW Deputy Chairman Alexander Arena. As for the investment portfolio, PCCW has spent about $900 million on stakes in some 75 companies, he says, one-third of them publicly traded. He puts their value now at about $1 billion. Given the unpopularity of dot-coms, says Arena, that's a "pretty good outcome." Yet while the number of portfolio holdings has almost doubled, their market value has fallen: Last March, PCCW said the value of its shares in publicly listed companies was more than $1.5 billion.
Certainly, PCCW's deals don't look as sweet as they once did. Since hitting a high of Hong Kong $25.40 in February, PCCW's stock price fell to just HK $6.35 on Oct. 17. Helping push down the stock has been news that U.S.-based Internet holding company CMGI Inc. had backed away from a plan to start a $1.5 billion venture-capital fund with PCCW. In 1999, PCCW bought a 3.4% stake in CMGI, whose own stock price has plummeted 89% this year. Then, an Oct. 13 announcement that PCCW had renegotiated a deal with Australian telecom provider Telstra, giving the Aussies majority control of HKT's valuable cellular business, caused even more concern. "PCCW is really a different company right now," says a CMGI spokeswoman explaining the reevaluation.
Brilliant has reached the same conclusion. He's grateful for PCCW's investment: "We were able to use Richard's money to build the company, and we would not have been able to do this otherwise," he says. Yet when he linked up, he expected the two companies to work closely to develop Li's satellite broadband service in Asia. Last winter, SoftNet even sent six workers to Hong Kong. But nothing happened after that. "They were certainly not present in our life," says Brilliant. And PCCW's acquisition of HKT is a bet on broadband via telephone lines rather than via satellite technology. As losses mount, SoftNet's stock has plunged 85%. To reverse its slide, Brilliant formed a venture with Compaq, United Airlines, and Delta Air Lines to offer wireless broadband access in airports. Brilliant still hopes PCCW can provide it access to Asia.
ON HOLD. PCCW has some of its hopes on hold, too. Take SilkRoute Holdings, a Singapore company that provides Web services and invests in startups. PCCW paid $25 million for a 25% stake last year. That seemed to promise PCCW a quick paper profit, since SilkRoute planned to go public in the second half of this year in a deal that would have valued it at $585 million. Then Nasdaq crashed. Plans for an IPO are off, says Kirpal Singh Sidhu, SilkRoute's chief operating officer: "If we were to go out now, we would not be living up to shareholders' expectations."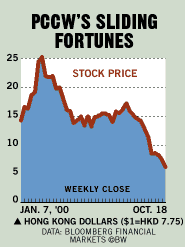 There are some bright spots in PCCW's portfolio. The dot-com blues haven't hit Outblaze Ltd., a privately held Hong Kong company on which PCCW has spent $33 million for a 46% stake. Outblaze, which provides companies with customized e-mail, chat, and instant-messaging services, is still expanding, says CEO Yat Siu. "We are hiring very aggressively," he says. It has just doubled its office space, to 11,000 square feet, and will increase its payroll by one-third, to 120, by yearend. Even so, Outblaze has no plans to test the IPO waters. That means PCCW won't be seeing returns for a while.
PCCW's Arena says quick killings aren't the objective: "It's not just a VC thing." The strategy is to help PCCW expand its businesses. Trouble is, many partners linked up with higher hopes. No doubt, Richard Li will go on making deals. And in the long run, they may indeed help PCCW grow into a broadband powerhouse. But for now, Li is finding that lots of little investments aren't adding up to one sure thing.
Before it's here, it's on the Bloomberg Terminal.
LEARN MORE